Standout Performances
Marcus Gillespie Marcus Gillespie 6'3" | SG Clarke Central | 2025 State GA (Clarke Central) – 48 points in 80-79 win over Gainesville.
Max McNeill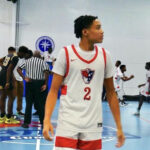 Max McNeill 6'1" | PG Cumberland Christian Academy | 2025 GA (Cumberland Christian) – 31 points, 8 rebounds in 73-71 win over Arlington Christian.
Miciah Hammond (New Creation) – 42 points in 86-59 win over Konos Academy.
Preston Parker Preston Parker 6'5" | SG Sequoyah | 2023 State GA (Sequoyah) – 31 points, 7 rebounds, 7 assists in 85-43 win over Loganville.
Colton Willbanks – 30 points, 11 rebounds in 61-60 win over Duluth.
Alfonzo Ross (Woodville-Tompkins) – 32 points in 72-63 win over New Hempstead.
Mo Diao Mo Diao 6'9" | C Mt. Bethel | 2024 GA (Mt. Bethel) – 28 points, 11 rebounds, 5 blocks in 76-55 win over Dunwoody.
Tahj Vines (Aquinas) – 30 points in 69-65 win over Hephzibah.
Games I Attended
Denmark (50) vs Mountain View (48)
Despite not having senior leader Stefan Davidov Stefan Davidov 6'4" | SF Denmark | 2023 State GA on Tuesday due to injury, Denmark was able to pull out a back and forth win over Mountain View. Keinan McFarlande Keinan McFarlande 6'10" | C Denmark | 2023 State GA posted a double-double and led all scorers with 18. Mountain View's backcourt also played well with Mike White scoring 17 and Bronson Blair Bronson Blair 5'11" | CG Mountain View | 2024 State GA adding 14.
Furtah Prep (64) vs New Faith (51)
Furtah Prep gained an impressive win over New Faith in a game that featured runs from both teams. There was a lot of talent on the floor but Fourth's energy and ability to make big shots down the stretch ultimately gave them the win. Senior Kalil Humphrey led all scorers with 21 and hit some huge shots in the second half. Levi Gonzalez also had a major impact, making some big-time plays when they mattered most and adding 13 points well.
Kennesaw Mountain (59) vs Lassiter (56)
Despite a valiant 4th quarter effort from Lassiter, Kennesaw Mountain escaped with a 59-56 win. It was a fun matchup between Wood Elite forwards Jake Whitaker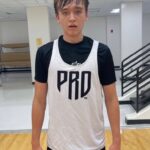 Jake Whitaker 6'5" | SF Kennesaw Mountain | 2024 GA and Cal Liston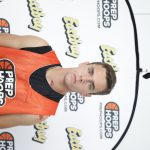 Cal Liston 6'5" | SF Lassiter | 2024 State GA , both of which played well. Hayden Hall was the hot hand for Kennesaw Mountain, knocking down 4 first-half threes and finishing the game with 17 points. Liston led Lassiter in scoring with an efficient 16 points.
Tri-Cities (62) vs Walnut Grove (60)
Tri-Cities came out with a tough win over Walnut Grove in a very entertaining matchup. Kory Mincy Kory Mincy 6'1" | PG Tri-Cities | 2023 State GA was the story of this game and finished with 26 points. He went on a solo run in the 2nd quarter that gave Tri-Cities a spark and their first lead. He carried his team from there, scoring at will from all over the floor. Deston Christian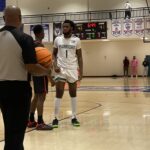 Deston Christian 6'5" | PF Walnut Grove | 2024 State GA impressed for Walnut Grove and made the game interesting at the end with a couple of big threes. He finished with 25 and led Walnut Grove in scoring.
Mt. Vernon (49) vs Lanier (45)
Mt. Vernon ends up grabbing a hard-fought win over Lanier in a fun afternoon matchup. It was a very balanced attack offensively for Mt. Vernon, Keith Williams Keith Williams 6'8" | C Mt. Vernon Presbyterian | 2023 State GA led the way with 15 points. He was tough and physical around the paint and played a huge role in Mt. Vernon's win. Jayce Nathaniel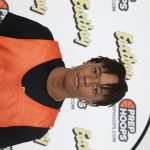 Jayce Nathaniel 6'8" | PF Lanier | 2024 State GA also had a solid outing for Lanier, scoring 19 points in the game including 15 in the first half.
Greenforest (65) vs Parkview (59)
Coming into this game, a lot of people were looking forward to the big man matchups but it was actually the guards that showed out for Greenforest and ultimately delivered them the win. Isaiah Lloyd and Elijah Lewis combined for 32 points in the win, Lloyd leading all scorers with 18. Gai Chol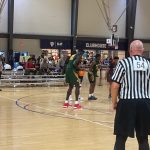 Gai Chol 7'0" | C Greenforest | 2023 State GA was also effective, cleaning things up inside and contributing 15 points himself. Parkview's forward duo of Jacob Wilkins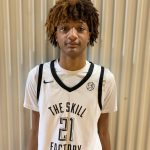 Jacob Wilkins 6'7" | SF Parkview | 2025 State GA and Adonai Mussie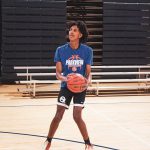 Adonai Mussie 6'9" | C Parkview | 2024 State GA showed a lot of good signs as well.
Pebblebrook (70) vs Grayson (67)
To no surprise, this Pebblebrook-Grayson matchup ended up being the game of the day. Jaiun Simon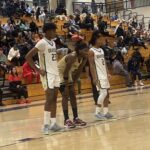 Jaiun Simon 6'6" | SF Pebblebrook | 2023 State #220 Nation GA was feeling it on Saturday, going for 31 points on the night and carrying Pebblebrook to the win. For Grayson, Gicarri Harris Gicarri Harris 6'4" | CG Grayson | 2024 State #99 Nation GA struggled with foul trouble and had to sit most of the game but CJ Hyland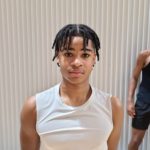 CJ Hyland 6'0" | PG Grayson | 2024 State GA stepped and kept Grayson in it. He finished with 30 points, 17 of which came in the 4th quarter.