Small Schools get it started as some of the 3A-1A schools started playing and there have been some great games and a few players showing out. Here is a few of those players that played well in what we are calling Week 0.
Top Scorers
Tuck Davis Tuck Davis 6'1" | CG Manila | 2023 State UT || Manila || 32 Points
Hunter Rhodes Hunter Rhodes 6'1" | CG Millard | 2023 State UT || Millard || 29 Points
Derek Brown || Kanab || 24 Points
MaCaoy Harris || Valley || 24 Points
Kai Dowdle || Rowland Hall || 23 Points
Ryker Petersen || Wayne || 23 Points
A Couple of Small School Players to Watch
5'9 Dawson McDermain || Providence Hall || 2024 ||
Dawson has had two games under his belt and his ability to shoot the ball is something to watch.
6'2 Kai Dowdle || Rowland Hall || 2023 ||
Kai has great size as a perimeter guard that can shoot the rock. He will be a tough cover in the small school divisions
6'2 Hunter Rhoddes || Millard || 2023 ||
Millard has themselves an athlete that will be a stat stuffer all season as he can shoot and find other was to score the ball.
6'5 Buck Sargent || North Summit || 2025 ||
Off the radar due to the rural area he plays in but with great size and a young forward Buck has shown he can clean up the boards and make easy buckets down near the paint. He will be a player to watch as the small school a few miles East of Park City often gets some good athletes.
Small School Hoopers
Komy Ocwar || APA West Valley ||
Komy is putting up some killer numbers in 3 games already. We will need to come watch some more of him as he is killing it.
Steven LaPray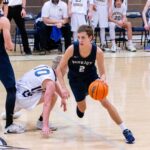 Steven LaPray 6'3" | CG American Heritage | 2024 State UT || American Heritage ||
Thw wait is over as one of the best small school players in the state made his debut and he did not let this opportunity slip away as he put up a 23 spot and he was just better than everyone on the floor. It is going to be hard to keep him under 20 points a game this year from what we are seeing. He is that sleeper off the radar prospect because he plays for a small private school, but he is a small school dream, so NWAC and D2's need to come through and watch him play.