Indiana High School Basketball the night before Thanksgiving is a favorite tradition of many Hoosiers. Personally, I'll be heading out to watch Park Tudor and Guerin Catholic this evening. After an exciting Tuesday night that saw a few Top 10 matchups, we have another good slate full of games to enjoy on Wednesday. Let's take a look at the top games around the state.
Concordia Lutheran @ Leo
We will get an early look at two Sectional 21 favorites on Wednesday evening. Concordia just might have the most talent in Fort Wayne this season. High-scoring junior guard Ajani Washington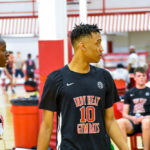 Ajani Washington 6'2" | SG Concordia Lutheran | 2024 State #235 Nation IN leads the way alongside a plethora of returning talent. Junior forward Cole Hayworth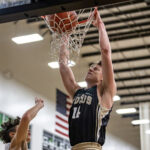 Cole Hayworth 6'5" | SF Concordia Lutheran | 2024 State IN was a double-figure scorer last season while sophomore guards Avery Cook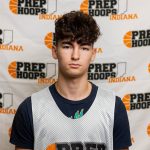 Avery Cook 6'1" | PG Concordia Lutheran | 2025 State IN and Khalyn Thomas both got varsity experience. David Speckhard and Alan Her Molen are two names to watch as well for the Cadets. Junior guards Jackson Mcgee Jackson Mcgee 6'2" | PG Leo | 2024 State IN and Trey Hiteshew Trey Hiteshew 6'3" Leo | 2024 IN are back for Leo and will provide a lot of playmaking in the Lions backcourt. Leo has four straight wins over Concordia including last season's sectional championship game.
Guerin Catholic @ Park Tudor
Per the Prep Hoops Indiana polls, Park Tudor is ranked #6 in Class 2A while Guerin Catholic comes in at #5 in Class 3A. On paper, that would lean the advantage to Guerin but with the strength and depth of Class 2A this season don't be surprised if the Panthers pull it off. Led by Purdue Fort Wayne signee Jermaine Coleman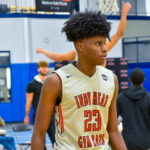 Jermaine Coleman 6'7" | SF Park Tudor | 2023 State IN , Park Tudor has the talent to compete for a state championship this season. As for Guerin, junior guard Robert Sorensen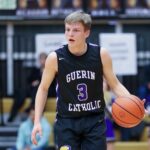 Robert Sorensen 5'11" | SG Guerin Catholic | 2024 State IN returns alongside senior wing Lucas Parker Lucas Parker 6'5" | SF Guerin Catholic | 2023 State IN . Look for transfer Dylan Murans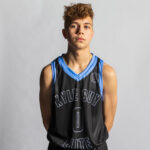 Dylan Murans 6'6" | SF Guerin Catholic | 2024 State IN , a 6'6″ junior wing, to make a major impact for the Eagles as well.
Bishop Noll @ Munster
This will be the first look at a couple of very talented players at Bishop Noll. Jaedin Reyna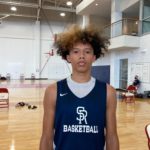 Jaedin Reyna 6'0" | PG Bishop Noll | 2024 State #259 Nation IN , one of the most dynamic guards in the class, moved in from Illinois and will make an immediate impact. The junior already holds Division I offers and will now be paired with 6'6″ junior forward Daniel Garza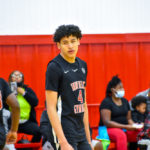 Daniel Garza 6'5" | PF Hammond Central | 2024 State IN who returns to Bishop Noll from Hammond Central. That one-two punch will be very difficult to handle. However, they are opening the season with another talented duo in Munster's senior wing Brandon Trilli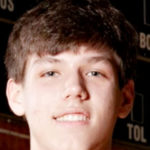 Brandon Trilli 6'5" | SF Munster | 2023 State IN and junior guard David Cundiff David Cundiff 6'0" | PG Munster | 2024 State IN . The result in this one will tell us a lot about how ready Bishop Noll is to compete at a high level this season with their influx of talent.
North Central @ Brownsburg
There will be a really fun matchup on the wing to watch in this one between North Central senior Joey Brown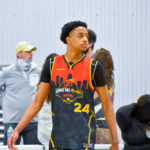 Joey Brown 6'6" | SG North Central | 2023 State #280 Nation IN and Brownsburg junior Kanon Catchings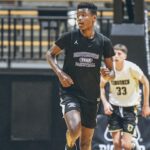 Kanon Catchings 6'6" | SF Brownsburg | 2024 State #134 Nation IN . Both are among the top prospects in the state with Brown holding some mid-major offers while Catchings is committed to play for the Purdue Boilermakers. Both of these teams are coming off of successful seasons and have their sights set on making some post season noise this time around. The Panthers also feature a dynamic backcourt with junior Mason Lewis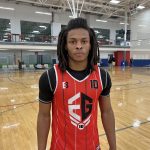 Mason Lewis 5'9" | PG North Central | 2024 State IN , sophomore Rogelio Rivera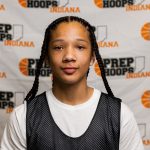 Rogelio Rivera 6'0" | PG North Central | 2025 State IN , and junior Jaxson Bell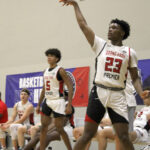 Jaxson Bell 6'3" | SG North Central | 2024 State IN among others. Likewise, Brownsburg will rely on senior Elhadj Diallo Elhadj Diallo 6'3" | SG Brownsburg | 2023 State IN , junior Cam Reich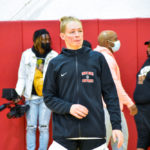 Cam Reich 6'1" | SG Brownsburg | 2024 State IN , and junior Grant Porath Grant Porath 6'1" Brownsburg | 2024 IN for additional scoring in the backcourt.
Norwell @ Carroll (Fort Wayne)
These teams are on opposite ends of the spectrum in terms of last season's win-loss record. Norwell won 22 games and cut down the nets in Sectional 23. Carroll went just 2-21 and were bounced in the first round. Norwell won this matchup last year 67-56 and return everything from their sectional championship team. Most notably for Carroll, they are simply a year older. Juniors Jaxon Pardon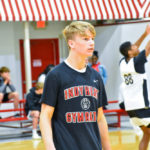 Jaxon Pardon 6'4" | SG Fort Wayne Carroll | 2024 State IN and Cannen Houser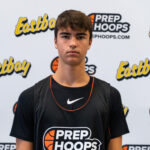 Cannen Houser 6'4" Carroll | 2024 IN had great summers and are poised to lead the Chargers to a vastly improved record. Sophomore guard Jaiyre Sampson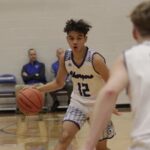 Jaiyre Sampson 5'11" | PG Fort Wayne Carroll | 2025 State IN is a name to remember as well. This matchup will serve as an early look into just how improved Carroll may be.