With the fall signing day now past, college programs are reshuffling their recruiting boards. Additionally, they're preparing to get out on the road to follow up on players who may have popped during recent fall leagues. Here are 10 of the top uncommitted seniors from around the state.
Backcourt:
Adam "Budd" Clark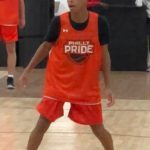 Adam "Budd" Clark 5'9" | PG West Catholic | 2023 State PA | G 5'10 West Catholic + Philly Pride
Budd has been making waves the last two months at events throughout the region. He already had offers from Lafayette and Rider. Then he picked up Coppin St. He took an unofficial visit there, as well as to Delaware St in October.
Dante DePante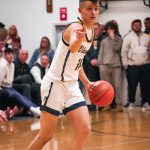 Dante DePante 6'3" | PG Central Catholic | 2023 State PA | G 6'3 Pittsburgh Central Catholic + Mason Elite
Depante had a busy fall. He took unofficial visits to Davidson, Fairleigh Dickinson, and Columbia; maybe more. Radford and North Florida already offered. His ability to utilize his size at the point guard spot will continue to intrigue once the season is underway.
Earle Greer Jr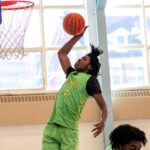 Earle Greer Jr 6'5" | CG Rocktop Academy | 2022 State PA aka "Ejay" | G/W 6'7 Rocktop Academy + Team Final Red
Greer's recruitment is finally beginning to catch up to his skill development. NJIT, FIU, Manhattan, and UAB all offered him in October. He also took unofficial visits to Delaware and Fairfield. His December could be even hotter once more college coaches see him live.
Lucas Orchard Lucas Orchard 6'4" | SF Devon Prep | 2023 State PA | G/W 6'5 Devon Prep + Prim3 Tim3 Elite
The Devon Prep captain landed offers from Monmouth in August and Seton Hill in September. He led the Tide to a state title with his unselfishness (4.7 rpg & 3.6 apg). If he can balance that with knowing when to call his own number, they have a chance to repeat and more college programs should be on board.
Nasir Washington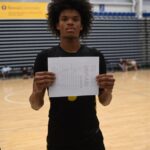 Nasir Washington 6'2" | SG Penn Wood | 2023 State PA | G 6'3 Penn Wood + SK Elite
Washington, a recent transfer from West Philadelphia, is just seeing his recruitment take off. The high-flying two-guard took unofficial visits earlier in the month to Quinnapiac and Fairfield. Fairfield offered shortly thereafter. He's become a household name in the city since the summer. College coaches are starting to find out too
Shemar Wilbanks-Acqui Shemar Wilbanks-Acqui 6'0" | CG West Catholic | 2023 State PA | G 6'3 West Catholic + K-Low Elite 3SSB
Knowing how to play alongside other good players is a skill. Unfortunately, it's also hurting Wilbanks-Acqui. Playing with Budd Clark at West and Zay Brown (Roman) on K-Low, he never puts up huge numbers or hunts his shot because they didn't need him to. He has several D2s waiting on him, but the talent is there to compete at a low or mid major.
Frontcourt:
Sultan Adewale Sultan Adewale 6'8" | SF Neumann-Goretti | 2023 State #205 Nation PA | F 6'8 Neumann-Goretti + Team Rio UAA
The all-state performer is undoubtedly the best unsigned prospect in the state's 2023 class. He's hearing from programs across the mid-major and high-major levels, from the Midwest to the Southeast. Yet, he's just been moving in silence, quietly adding to his game. Where the springy forward ends up is anyone's guess.
Matar Diop | F/C 6'9 Keystone Academy
Diop transferred to Keystone at the beginning of August from NBA Academy Senegal and his recruitment took off soon after. Charlotte and Eastern Michigan offered him scholarships within the next month. That trend should stick as he gets more games under his belt state-side.
Khali Horton Khali Horton 6'8" | SF Keystone Athletic Academy | 2023 PA | F 6'8 Keystone Academy + Team Final EYBL
The recruiting process isn't a one-size-fits-all path and Horton's timeline confirms that. After a few mid-major offers in 2021, things have cooled off a bit. But the buzz around him picked up with his performances with Wildcat Select 3SSB, then Team Final at Peach Jam. Now at Keystone with Diop, he's building on that momentum.
Christian Kirkland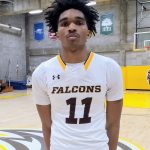 Christian Kirkland 6'7" | SF Friends Select | 2023 State PA | W/F 6'7 Friends Select + We-R1 UAA
A jack-of-all trades, got two offers last year from Rider and Fairfield. Things were then quiet for Kirkland after missing the June and July live periods. However, standing out at fall league events has his recruitment heating back up. He's hearing from high academic schools.
For more hoops coverage, follow me on Twitter/IG @CGraham_Sports