Get 25% off your subscription by entering Knight25 in the coupon code area. Enjoy!
On October 1st, basketball practices opened up all across the state of Oklahoma. Scrimmages opened up and for some of the smaller schools, they've started playing regular season games! We're taking an in-depth look at some of the top teams in the state with our team previews. Keep it locked into Prep Hoops Oklahoma as we'll have new preview content dropping on the site every single day!
In this preview, we take a look at Class 5A contender Tahlequah.
2021-2022 RESULTS
The 2021-2022 season for Tahlequah basketball was a weird one and looking back just brings up ever weirder memories. On the court, Tahlequah went 17-8, upset Bartlesville in the 6A regional tournament before losing their next two games and getting bounced out of the playoffs. But when you look at their record on the OSSAA Rankings website, it says they went 1-11 with the only game counting was that playoff win against Bartlesville. The Tigers found out once the season was over that they had used an ineligible player throughout the season.
This was a matter that they looked into before the year and were given the green light. However, after the season came to an end, the player was ruled ineligible and every game he participated in was ruled as a forfeit. He did not participate in the playoffs. And that was only part of the weird level of last season. Because Tahlequah has been on the border of being a 6A or 5A school, last season, the Tigers were in 6A. And they only played two games against 6A teams before the playoffs and those were in tournaments. They are in a conference consisting of mostly 5A schools so their playoff win over Bartlesville was just their third game against a 6A team. All in all, it was a weird season, but it was also one that the Tigers can build on coming into this year.
2022-2023 OUTLOOK
With three starters back, a new head coach and most importantly a move back down to Class 5A, there are plenty of reasons to be excited about the upcoming season for Tahlequah basketball. After their trek into Class 6A last year, the Tigers are back into Class 5A this season after being dropped back down based on their enrollment. And that's just the more natural fit when you consider their conference and all the schools that Tahlequah faces. Now, you can make the argument that the Tigers might find themselves back in Class 6A in the future. So maybe it would be beneficial to look at conference alternatives, but that's a future problem and it's all hypothetical anyway.
Quinn Wooldridge takes over a Tahlequah team that brings back three starters and several other players that saw quite a few minutes from last year. Wooldridge comes over after being the head coach at Bethany for the last few seasons. He replaces Marcus Klingsick, who is now the girls basketball coach at Stillwater. We're going to find out quite a bit about Tahlequah very early on in the season. Their first two games are against fellow 5A east contenders Collinsville and Coweta. They also host their annual tournament in the first week in December. We'll know quite a bit about the Tigers after the first few weeks of the season.
PLAYERS TO WATCH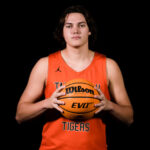 6'7" | PF | 2023
Tahlequah | Tulsa Hawks/Team Griffin
One of the best players in Class 5A coming into this season is Tahlequah senior big man Hayden Smith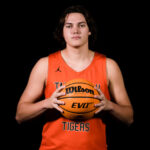 Hayden Smith 6'7″ | PF Tahlequah | 2023 State OK . Last season, Smith averaged nearly 15 points per game, along with seven rebounds a game and he's looking to expand on that production this season. Smith is one of the better big man prospects in the state's 2023 class and we're looking forward to seeing what he does this season. Wooldridge believes that Smith has the ability to be a big impact player for the Tigers on both sides of the ball. If he can bump up his production to averaging around 20 and 10 this season, the Tigers are going to have a good chance to be contend for a state tournament spot.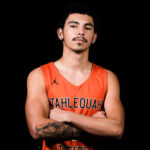 5'11" | PG | 2024
Tahlequah
Leading a long list of returning guards to this year's team is junior point guard Zeke Guerrerro. Wooldridge mentioned to us this preseason that the Tigers are going to have some very versatile players around Smith, who has that potential to be one of the top big men in Class 5A. Leading that group is Guerrero, who averaged six points per game last season. The Tigers are hoping and expecting Guerrero to take that next step and he's going to have some opportunities to score more this season but also get others involved. The Tigers are excited about the potential of this deep and versatile lineup that they can run out every single night.
MORE NAMES TO KNOW
Brycen Smith – 2024 Guard
Cale Matlock – 2023 Forward
Cash McAlvain – 2025 Guard
Cole Robertson – 2024 Guard
Donovan Smith – 2024 Forward
Lukas Wooldridge – 2025 Forward
Shaun Young – 2023 Guard