There were several 2025s who got extensive opportunities as freshmen and excelled. Guards who played big roles as ninth graders tended to score in double figures. The posts and forwards who played a lot didn't put up the same type of scoring stats as the guards. But they were big enough, mature enough, and skilled enough to step in and perform right out of the gate.
Here are a few "Super Sophomore" bigs who made their mark as ninth graders:
Will Goode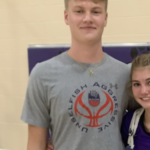 Will Goode 6'9" | C Aquinas | 2025 State KS , 6-foot-9 center, 2025, Aquinas:
Goode was blessed with the size and stature to not just compete but dominate in the paint as a freshman. He's got a big frame and great length. But add to that an advanced understanding of what to do in the lane. He's got advanced fundamentals and stayed in his lane, not trying to do too much in his limited playing time. But he has shown the ability to shoot from deep, step out to face the goal in the midrange and pass with good touch. He averaged 4 points and 3 boards as a rookie and will do much more this year.
Alan Hanna Alan Hanna 6'3" | SF Maize | 2025 State KS , 6-foot-3 forward, 22025, Maize:
Like Goode, Hanna stayed in his lane as a freshman. He let the talented upperclassmen do most of the shooting, while he focused on providing energy on defense and on the glass. Thus he only scored 3 points per game. But he made plays when they were available and watched his role grow as the season progressed. By tournament time he was an important role player who was trusted in crunch time. He's a dynamic athlete who will blossom this year.
Parker Hardgrave Parker Hardgrave 6'7" | C Wichita South | 2025 State KS , 6-foot-7 center, 2025, Wichita South:
Hardgrave was one of several young players who stepped in and played for Wichita South. He gave the Titans great length and presence on the back line of their defense. In limited time he averaged5 points, 4 boards and block per game. He was willing to do the dirty work in his role, and hit 62 percent from the field.
Julian Marks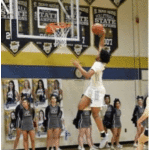 Julian Marks 6'7" | PF Aquinas | 2025 State KS , 6-foot-7 forward, 2025, Aquinas:
If Goode is a big man, Marks is huge. He is getting lots of football attention these days. But he was a contributor to Aquinas as a freshman with 4 points and 4 rebounds. He plays with power, but has skills to boot.
Jacorey Robinson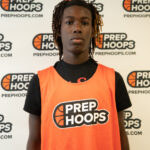 Jacorey Robinson 6'4" | SF Highland Park | 2025 State KS , 6-foot-4 forward, 2025, Highland Park (pictured):
Robinson was a utility man for the Scots as a freshman. Whenever they needed a hole filled at the forward or post position, they could turn to this bulldog. He was physically developed enough to hang with the older players, and he never backs down from a challenge. He provided rebounding, defense and a couple of buckets a night in his backup role. Playing time will be tough to get at Highland Park this year, but Robinson is in position for a bigger season after working on his face-up skills over the summer.
Amalachi Wilkins Amalachi Wilkins 6'6" | C Wichita Heights | 2025 State KS , 6-foot-6 center, 2025, Wichita HeightsL
Even as a freshman, Wilkins' physical gifts stood out. He swatted shots and threw down dunks like a grown man. With talent and depth to spare on the Falcons' roster, Wilkins focused on locking down the back line. He averaged just 3 points per game, but grabbed 4 rebounds and blocked nearly 1.5 shots per game. And most importantly, he was a winner. He played a big role in Wichita Heights' 6A championship. Heights lost a lot from that group, so Wilkins may see his role expand greatly as a sophomore.