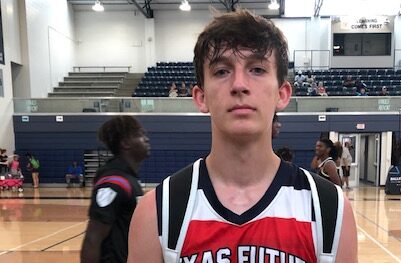 6'1" | CG | 2023
Orangefield | Texas Future Basketball
Pete Ragusa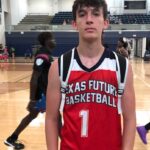 Pete Ragusa 6'1″ | CG Orangefield | 2023 TX 's stock has steadily been going up since the summertime and it continues to rises after yet another spectacular performance. The 6-foot-1 lead guard was the most aggressive player on the floor from beginning to end with the most effortless, efficient, and consistent offensive game, he showed a natural ability to get to his spots from all three levels with instincts and within the flow of the things. While facing off against the Vidor Pirates, he went into attack mode early, putting up Orangefield's first 8 points before proceeding to carry the scoring load for the Bobcats with his extremely hot hand which resulted in a game-high 26 points for Ragusa. This highly skilled point guard prospect displayed solid athleticism, a great competitive spirit, and an unwavering motor, Pete never gave up on a play both offensively and defensively, often extending plays and even rebounding his own miss. Ragusa controlled the offense and dictated the tempo of the game with his terrific decision-making as the primary ball-handler, he was very unpredictable, always took whatever the defense gave him and used it to his advantage. Orangefield's senior guard proved to be insanely effective off the dribble, if he saw a lane he took it with great quickness in his first step. Throughout the night Pete was able to get all the way to the rack at will with and without a pick to lead him there. His bag full of handles were unguardable, he had mean separation skills, he ate defenders alive with his smooth crossover while coming at his man downhill, getting them on their heels before continuing to the basket or adding one of his many counter dribbles which could be a quick fake spin and go or a snatch back dribble depending on how he was defended. Ragusa's elite and well-polished footwork was on full display as well, he stepped through tight spaces with ease, stopped on a dime with jump stops and pro hops without traveling, and turned the corner perfectly while attacking his defender's hip. This shifty and crafty ball-handler showed a lot of creativity in the air alongside a good explosive leaping ability once he left his feet, often reacting and adjusting his layup to his inside or outside hand based on how the rim protector challenged him inside. His body control was impressive as well, he got off the ground quick and easy and managed to finish shots after being knocked off balance. When it came to scoring from outside, Ragusa found open opportunities due to good pass and relocation skills that easily led to clean looks from three-point range which he made sure to knock down. In the third quarter, Pete really showed off his deep shooting stroke as he received a pass well above the top of the key, near the volleyball line, and drained the jumper with no hesitation and all of the confidence in the world. There's a lot to like about Pete's game, he oozes potential, and should be a noteworthy name on most college coach's radar right now.  
The name Bryce Loftin was new to me but it didn't take him long to make me a believer in his abilities. Loftin was capable of getting the job done thanks to his solid handle, control of the rock, and nice change of pace dribbles, but it was his continuous use of the right to left crossover that got Bryce to his spots in the mid-range around the elbows where he made shots while moving and being heavily contested, showcasing a very smooth and fluid dribble to pull-up shooting motion with textbook shooting form. Great use of his left hand dribble when attacking and creating for a predominantly right handed player. After haltime, Loftin came out with boost of energy that instantly showed in his play, he was a lot more aggressive as a rebounder and as scorer and once Loftin got hot he became incredibly tough to slow down as he began to stop-and-pop from outside in transition, knock down stepbacks from three-point range, and get inside the lane with ease. Bryce's scoring nearly brought the Vidor Pirates back from being down double digits in the fourth quarter, finishing with an impressive team high 26 points and 10 rebounds. 
5'8" | PG | 2026
Orangefield
This Orangefield freshman did everything but play like freshman as he managed the game and dropped 17 points off of 3 three-pointers, 4 assists, and 2 steals while leading the Bobcats to a 2-0 start on the season. Scales was as relentless and aggressive of a dribble penetrator as they come, he showed a deceptive shiftiness to his hesitation and attack dribble by faking defenders out with head and shoulder movements, Scales showed a knack for using a defenders momentum against them, particularly after getting a step ahead of them while coming around a screen to get him open for a downhill drive. Oftentimes, when Jaden Scales found himself inside the lane he proved to be an acrobatic finisher with either hand on both sides of the basket. Good potential as a true floor general for this young prospect, as he continues to improve, develop, and learn the game he will likely become one of, if not the best point guard in his district. 
Senior forward, Zander Lindsey poured in 8 points, 6 rebounds, and 2 blocks. Lindsey was one of those players that's hard to take off the floor because of just how impactful and versatile he was. Lindsey was effective from multiple positions on both ends from the inside out. The 6-foot-3 prospect immediately stood out with the way he got the game started with a beautiful catch and shoot three-pointer after showing terrific spacing and moving before quickly setting his feet and firing while being contested. 
Zane Wrinkle was my glue guy of the night, he contributed in every way possible and filled up the stat sheet across the board with 5 points, 10 rebounds, 4 assists, and 2 blocks. Wrinkle dominated in the paint with his presence on the glass and his phenomenal helpside defensive abilities. Zane was capable of shutting off the post by stepping up and into the opposing player's way every time they found themselves near the hoop, keeping his hands held high while stopping them dead in their tracks with his body, forcing players into tough shots, passes, and traps along the baseline.
In route to 12 points and 5 rebounds, Brayden Root assisted the Pirates tremendously with his team first mentality and constant off ball screens and movement. With the ball in hand, Root made shots due to his sweet soft stroke and impeccable touch which came in handy whenever he delivered a nice well-balanced one-legged fadeaway over a defender while being guarded tightly near the low post and when catching and shooting with his feet set from beyond the arc, especially when uncontested.