To preview the upcoming high school basketball season, Prep Hoops Wisconsin lists a handful of 2025 prospects who have not gotten the coverage that they deserve:
Andrew Rader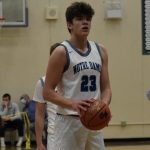 Andrew Rader 6'8" | PF Notre Dame | 2025 State WI — PF — Notre Dame
Poised to make a huge impact for Notre Dame this upcoming high school season, Rader is coming off an impressive AAU season. When the power forward gets the ball on the block, there aren't many defenders who will be able to successfully slow him down. He owns some great footwork around the hoop, which he uses well to navigate around opposing defenders. Holding a lot of potential, look for Rader to make a major impact this winter.
A.J. Bender A.J. Bender 6'4" | SG Lake Mills | 2025 State WI — SG — Lake Mills
I was extremely impressed with what Bender was able to do last season as a freshman at Lake Mills. The shooting guard was able to tally 17.2 points, 6.2 rebounds, and 3.8 assists per game. Now that he has proven himself as a credible contributor at the high school level, I am looking for Bender to take his game to another level as a sophomore. Bender is very well-rounded and versatile on the basketball court.
Drew Murphy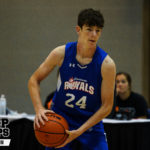 Drew Murphy 6'4" | SF Verona | 2025 State WI — SF — Verona
It is still very early in Murphy's basketball career, but I already see college potential in the small forward. Standing at 6-foot-4, Murphy has solid positional size and plenty of skill to match. On the perimeter, Murphy has a smooth shooting stroke and is capable of knocking down open three-point shots in his sleep. This fall, Murphy also showed an ability to put the ball on the floor and get buckets at the rim.
Brooks Hinson Brooks Hinson 6'1" | CG Marshfield | 2025 State WI — PG — Marshfield
Scoring in double digits as a freshman is an impressive accomplishment, regardless of circumstance. But to do it on a winning team as a point guard is even more impressive. This is what Hinson was able to do last season. The point guard was able to tally up 11 points per game while helping Marshfield to a successful season. An effective floor general in more ways than one, Hinson plays the game with a high-IQ.
Javantae Edwards Javantae Edwards 6'0" | CG Milwaukee Carmen | 2025 State WI — CG — Milwaukee Carmen
Edwards is a prospect that I have had circled for a while now. The Milwaukee Carmen guard is electric in the open floor. He does a really nice job of using his speed and quick first step to blow by opposing defenders. Around the rim, Edwards is very creative. He does a solid job of using his athleticism to finish around bigger defenders.
Amare Jackson Amare Jackson 6'4" | SF Milwaukee Academy of Science | 2025 State WI — SF — Milwaukee Academy of Science
Still nowhere near reaching his full potential, Jackson is a prospect for college programs to keep a close eye on. The 6-foot-4 small forward owns some impressive physical tools. He is a solid athlete and has good length. As a slasher, Jackson uses these tools to score in the paint. If the Milwaukee Academy of Science standout is able to add new elements to his game, he could become a really good high school basketball player.