Get 25% off your subscription by entering Knight25 in the coupon code area. Enjoy!
On October 1st, basketball practices opened up all across the state of Oklahoma. Scrimmages opened up and for some of the smaller schools, they've started playing regular season games! We're taking an in-depth look at some of the top teams in the state with our team previews. Keep it locked into Prep Hoops Oklahoma as we'll have new preview content dropping on the site every single day!
In this preview, we take a look at Class 6A contender Putnam City West.
2021-2022 RESULTS
For the ninth consecutive season, Putnam City West qualified and earned their way into the state tournament. They'll look for their tenth consecutive run to state this season. Last season ended with a loss to Moore in the quarterfinals. Moore would go on to make it to the state championship game before losing to Edmond North. The Patriots would finish the season with a 20-6 record and four of those losses were to Midwest City and Moore, who beat them twice last season. The Patriots were sent east for the playoffs, and that's something that we've become accustomed to over the last decade. The west side in Class 6A usually has a few more state tournament teams and to try to balance it out as much as possible, one or two of those teams get sent east in hopes that the best teams make it to the state tournament.
The Patriots did benefit from a few upsets that took place in the first two weeks of the playoffs. First, Tahlequah upset Bartlesville on the first night and that led to the Patriots routing the Tigers 81-47 to capture the regional title. And then Muskogee would upset Jenks and that led to the Patriots punching their ticket to the state tournament with a 70-53 win in the area round. But Moore would knock off the Patriots and end their 2021-2022 season with a 20-6 record. The Patriots continued their trend of playing out of state competition by participating in the Coke Classic in Fort Smith, Arkansas, a tournament they would take home the title. And with a couple returning starters and some new faces joining the fold, the Patriots look strong heading into this year.
2022-2023 OUTLOOK
Putnam City West returns only two starters from last year's team, but as we see every year during the offseason, there was some movement of some of the top players, going from one program to another. And the Patriots definitely benefitted from that going into this season as 2024 guard Chiante Tramble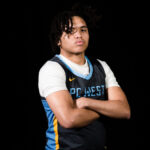 Chiante Tramble 6'2" | PG Putnam City West | 2024 State #262 Nation OK and 2025 forward Kaidon Rayfield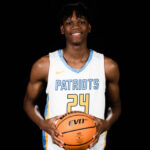 Kaidon Rayfield 6'8" | PF Putnam City West | 2025 State OK both moved in. Both prospects are top five overall in their class so that will certainly give the Patriots an immediate boost. In addition to that, the Patriots bring back quite a bit of experience in those other two starters that they bring back from last year's state tournament team.
The Patriots will once again test themselves against top teams in Oklahoma but play quite a bit of out of state competition as well. Head coach Lenny Bert mentioned to us that the Patriots will play seven national games this season as he looks to continue building the brand and reputation of Putnam City West basketball. When it comes to competing in Oklahoma, you have to take the Patriots seriously as a contender to not only punch their ticket back to the state tournament yet again, but they should compete for the gold ball. Defending champion Edmond North comes into this season as the favorites in Class 6A but the Patriots will be in the mix once again as they hunt for their first title since winning it all in 2016.
PLAYERS TO WATCH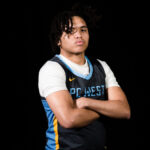 6'2" | PG | 2024
Putnam City West | Texas Impact 4:13
There's a saying in sports, "if you can't beat them, join them." Well, this is quite the opposite. After helping lead Moore to the state championship game, including a quarterfinal win over Putnam City West, 2024 guard Chiante Tramble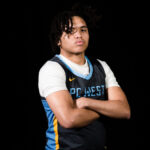 Chiante Tramble 6'2″ | PG Putnam City West | 2024 State #262 Nation OK moved into the PC West district and now steps into a position to lead the Patriots back to the state tournament after bouncing them out back in March. Tramble is a dynamic guard that will provide an immediate impact to the Patriots this season. Tramble has become a top five prospect within the state's 2024 class and was recently rated as a national prospect in the Prep Hoops national ranings. His stock is skyrocketing as a prospect and he seems primed for a big junior season.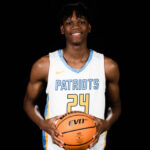 6'8" | PF | 2025
Putnam City West | Team Griffin
The other significant addition to this year's Putnam City West roster is 2025 forward Kaidon Rayfield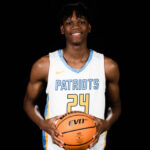 Kaidon Rayfield 6'8″ | PF Putnam City West | 2025 State OK and he moved over to PC West after spending his freshman year at rival Putnam City North. But like Tramble, Rayfield should have an immediate impact as he'll give the Patriots more length within the front court, to go with a lineup that has some serious firepower in the backcourt. And like Tramble, Rayfield has already established himself as one of the top guys within his class. He's currently a top five prospect in the state's 2025 class and it seems like that arrow continues to point up. Rayfield is a big man who will give the Patriots a serious presence in the paint. He'll also be able to handle some of the other top teams in 6A with their size.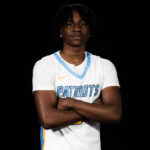 5'10" | PG | 2023
Putnam City West | Team Movement
On a very guard-heavy team last season, point guard O'rian Scales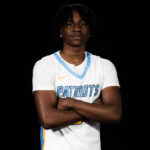 O'rian Scales 5'10" | PG Putnam City West | 2023 State OK led the Patriots in scoring with 15 points per game. The senior guard has been a critical part of the Patriots team over the last few seasons but PC West might be without him for the first part of the season. Scales has not been playing with the Patriots during scrimmages and it is believed that he will not play in the first month of the season with a potential to come back in January. With Scales, the Patriots are right there in the mix among 6A contenders. Without Scales, we believe the Patriots are still a contender, but they'll have to overcome losing that production. Scales had an outstanding offseason and should be hungry to return to the court.
MORE NAMES TO KNOW
Jaden Constant – 2024 Forward
JJ Wilson
JJ Wilson 6'6" | PF Putnam City West | 2024 State OK – 2024 Forward
Jordan Warrior Jordan Warrior 6'0" | PG Putnam City West | 2024 OK – 2024 Guard