The Pioneer Athletic Conference is primed for an entertaining and competitive 2022-23 season featuring high-level play from bona-fide stars. By now you are familiar with the PAC ballers we are talking about. Names like Jake Kapp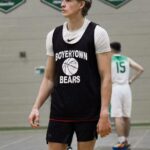 Jake Kapp 6'3" | SF Boyertown | 2023 State PA , Dom DeMito Dom DeMito 5'11" | CG Pope John Paul II | 2024 State PA , Madison Tatom Madison Tatom 5'11" | SG Upper Merion | 2023 State PA , Nyles Bunn-McNeill Nyles Bunn-McNeill 6'5" | SF Pottstown | 2023 State PA and Matt Christian Matt Christian 6'3" | CG Methacton | 2023 State PA .
Running the court with those No. 1 options will be a group of prospects who are not household names yet, but they will contribute heavily for their varsity teams this winter and potentially play at the next level.
Today we want to highlight five of these PAC athletes so this season when someone asks you, "What's His Name?" you will know the answer.
Myon Kirlew – 6'2" / Junior / Norristown / BW Elite / Shooting Guard: Kirlew only averaged 6 points per game last season, but on a couple of occasions he revealed his potential by exploding for 20+ points. He is a fast and wiry guard who can hit threes as well as slash to the rim. Kilrew is also a capable secondary ball handler.
Chase Mondillo – 6'1" / Junior / Pope John Paul II / Eastern PA Elite / Shooting Guard: Mondillo burst onto our radar during summer ball after several outstanding performances. Included in that stretch of extraordinary play was his 5 made threes effort vs. Imhotep Charter. Mondillo's stellar 3-point shooting continued into the fall ball season. Plus, he displayed the ability to hit pull up Js and use his dribbles to get to the rack.
Gabe Rinda – 6'0" / Junior / Pottsgrove / Eastern PA Elite / Combo Guard: This ridiculous athlete (Also QB for football team.) excels on the break where he can hit transition threes or convert lay-ins. In the half-court Rinda is a high IQ guard who drains jumpers from the mid-range out to the arc. If a defender closes out too quickly, Rinda will go to the rim via the dribble. Last season he posted 11 ppg.
Julian Sadler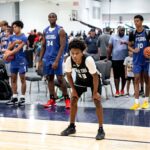 Julian Sadler 6'2" | CG Perkiomen Valley | 2024 State PA – 6'2″ / Junior / Perkiomen Valley / Prim3 Tim3 / Combo Guard: Sadler's elusive handles and off the dribble scoring made him one of this past summer's biggest 2024 stock risers. He plays an up-temp game, getting into the paint for buckets, dump off assists and drive and kicks. Sadler (10 ppg. last season) owns an effective pull-up jumper and can splash threes.  
Zach Ward – 6'5" / Senior / Boyertown / Eastern PA Elite / Wing: One of the most intriguing prospects in the PAC, Ward fills all the columns on the stat sheet with his point-forward style of play. He is a high percentage shooter with range out to the line. His court vision and precision passing make him a tremendous distributor. As a bonus, Ward rebounds the ball at both ends.