The Philadelphia Public League is as tough as they come. Imhotep is the clear favorite. And they were last year too, but they still managed to lose a league game. So here are are key players from the PPL who could win MVP and others who can make this season interesting.
Justin Edwards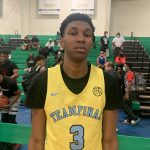 Justin Edwards 6'6" | PF Imhotep Charter | 2023 State #3 Nation PA | W '23 Imhotep
Edwards is the best player on the best team in the Pub and arguably the area. His five star status and Kentucky pledge don't make him too good to dive for loose balls or do Tep's dirty work. If anything, he got those accolades because he's committed to doing those things. Combined that with his event creation on defense and offensive skill set off the catch, Edwards is primed to lead the Panthers to another league title and justify their consensus top 10 national ranking.
Kyree Latimer Kyree Latimer 6'3" | CG Constitution | 2024 State PA | G '24 Constitution
After starting his high school career at Bonner-Prendie and missing part of his sophomore year to injury, Latimer made his way to the Generals for a fresh start. Constitution on the other hand is rebuilding after losing their top performers from last season. The combo guard gets his own shot the bounce, finishing with craft around the basket. The Generals will need him to use that ability to force defenses into rotation and get his team involved. Doing so at a high level should slot them near the top of the league.
Naseem Wright | W '24 Math, Civics & Sciences
Wright has continued his upward trajectory since arriving at MCS. The handle has been the biggest development. He's gone from merely a "3 and D" wing to one who the offense can run through and can attack closeouts. His feel for when to block shots has progressed too, which the Elephants will need since he's their tallest player. MCS would have to run the table for Wright to win MVP. That would require him to play like the second-best prospect in the league. It's a tall order, but with his talent, it's far from impossible.
X-Factor
Amir Speights Amir Speights 6'3" | SG Cardinal O'Hara | 2024 State PA | F '24 Constitution
Speights joins Latimer and Neumann-Goretti-transfer Tymir Smalls to play for Coach Rob Moore. He comes over from the Catholic League where he averaged 6.2 ppg starting on a young O'Hara team. The 6'4 forward took over 4 threes per game and had a 66.4% 3 pt rate, but only made 26% of them. If he improves his shot selection from deep and finds avenues to utilize his size inside, Speights and the Generals could easily find their way into the Public League chip.
Kareem Diaz | G '23 Dobbins
Diaz flashed as a junior in the Public League National division with 25.2 ppg, 4.9 rpg, and 38% from 3. Standing about 6'4, he slashes to the cup with his long and lean frame. Utilizing his physical tools to lock-up opposing scorers on defense and improve as a playmaker, Diaz could be a special player. Led by him and 2024 G Zach Campbell, Dobbins has the potential to make some noise in the public league playoffs.
Zaki Alston | G '23 Sankofa
Alston is the elder statesman on a young Warrior squad. Last season he averaged 16.6 ppg and 5.7 rpg. He'll be asked to carry the load on offense as a scorer on the interior and mid-range. But because that's his responsibility, he'll have to pace himself over the course of games. Alston learning when/where to pick his spots and lean on his teammates should bode well for the 2023 edition of Sankofa.
Elijah Hester Elijah Hester 5'11" | PG West Philadelphia | 2023 State PA | G '23 West Philly
Hester contributed 8 ppg, 3.8 apg, 2.4 spg in '21-22. He already had to step up, but with a great deal of attrition since then, the senior guard will have to do even more. But don't count the Speedboys out just yet. Hester led a balanced attack for West Philly during the Post & Pivot Fall League. He's on his way to maturing into a veteran point guard, one who can control the pace and points in the game.
For more basketball coverage, follow me on twitter/IG @ CGraham_Sports