Here is a preseason preview in our road trip reports on a very talented CHSAA Iona Prep club.
5'9" | PG | 2023
Iona Prep
We first reported on Blaise when he was a freshman brought up for a playoff run and showed the ability to at a young age run an offense and also score the ball. Well he is now a polished point guard. A very savvy crafty finisher. A playmaking coach on the floor. Outstanding shooter who can also score in a variety of wats on the drive, moves his feet and hands well on defense. Tough fearless guard.
5'9" | PG | 2025
Iona Prep
A young guard who plays alot like Blaise. Johnny has an  excellent skill set. Handling it and passing it are two things he does really well. Fearless competitor. Crafty player has a quick release of his jumper. Outstanding shooter from three.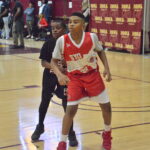 6'7" | SF | 2024
Iona Prep | NY Gauchos
Marcel is now growing into his body. Has trimmed down and added muscle. Without losing the ability tomake a quick move or athletically work on the boards and in defending. Runs the floor really well. He possesses a soft  touch but is a physical player.
6'5" | SF | 2023
Iona Prep | Gauchos
(Pictured)At times during the summer AJ was one of the top  players at an event. He is showing the makings of a great senior season. A very versatile creative scorer. Long length. Can finish inside take you off the dribble or pop the three. Excellent in transition. Has shown the ability to rebound the ball lead the break and make a nice pass to lead to the basket or finish it on his own.
6'4" | SF | 2023
Iona Prep | Riverside Hawks UAA 2023
Attacks the rim with strength and finesse at the same time. A sneaky first step.  Off the wing or the baseline  he uses his body to protect the ball and score it. Good rebounder off the wing.
6'7" | PF | 2024
Iona Prep | Riverside Hawks
The big man has really grown into his body. A physical presence in the paint on both ends. Muscles his way to gain position in the post . He is hard to move out. Very hard to stop if he gets you on his back. Showed the ability to score inside with either hand.
6'8" | PF | 2024
Iona Prep
Alexander was the most impressive player I saw at this event. A long strong body frame. He commanded the inside, scoring or rebounding. Can finish plays in transition or in a half court set with a ferocious dunk. Extremely active. Also showed the ability and determination  to chase down a ball handler and block or alter their shot. Huge upside.
6'0" | PG | 2024
Iona Prep
Extremely quick with the ball in his hands. Keeps the defense on its heels with his ability to change direction or pace. Active player all over the court.
5'11" | PG | 2024
Iona Prep
A really fast guard. Has a strong handle pushing the ball. He is able to finish on the break creating contact.
6'3" | SF | 2024
Iona Prep
Can get up and get rebounds. Really good leaper. Seemed to be in the middle of plays especially when loose balls were involved.
6'4" | SG | 2024
Iona Prep
Big upside for this lefty shooter. Showed the awareness to shoot the gap and come up with steals. Seems to be improving every time he steps onto the court.