Saint Mary's of Rutherford has the deepest and most complete starting lineup and perhaps roster in the NJIC this year. Elmwood Park also brings back an excellent 1-2 punch in its backcourt and was already featured as a team to watch. Today we look at a handful of teams who could challenge.
Rutherford High(22-7)
Just one corner house on Home Avenue separates St Marys and Rutherford High. The Bulldogs have a top team of their own in recent years. This year's squad will be led by scholarship level guard Tarik Bicic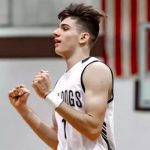 Tarik Bicic 6'5" | SG Rutherford | 2023 State NJ . The 6'6″ senior is the top player in the NJIC and should contend for All County honors, as well as All State in his classification. He's going to be given the keys to the bus this year and will be expected to score, rebound and facilitate. RHS loses quite a bit to graduation, but returnees such as Matthew Chin, Arion Balidemaj, Sam Kelly and Jon Michael Santiago were role players last year who will be asked to step into bigger roles as seniors. Junior Ryan Ward, checking in at 6'4″-240 provides muscle as a football player and could be a breakout post player to watch in the small school conference.
Paterson Charter(31-2)
After making a fantastic run in the state playoffs last year, Paterson Charter bid adieu to almost every key player they had. The only returnee with meaningful minutes and production, given last year's senior heavy rotation is Adrian Mouzone Adrian Mouzone 5'11" | PG Paterson Charter | 2023 State NJ . A 5'11" guard who also plays football at a high level. He's going to be the leader for Charter this winter. He showed some flashes last year, including hitting a good Hackensack team for 14. The real question here is "Who else steps up or steps in?" Charter will want to hold a high standard after their ascent to the top of Group I basketball last year, but with so little experience, questions remain…That said, they make the list because they could make noise regardless of who joins Mouzone in the starting lineup.
Emerson Boro(20-8)
Emerson lost some pieces to graduation from a great run last year, but returns enough pieces to be in the mix as one of the top teams in the NJIC. 5'10" junior Jeremy Lachman averaged just under 10 PPG last year(17 vs Waldwick and Butler) and will see expanded responsibilities on offense; 6'2″ forward Thomas Maceira was a contributor both on the scoresheet and on the glass and 5'10" junior Jason Ziemba is another option in the backcourt(21 vs Bogota last winter)
Cresskill(13-12)
Oliver Urena, the leading scorer and rebounder, graduates, but a host of underclassmen return that could see Cresskill make a move into the top tier of the NJIC once again. 6'3″ guard Jackson Reicherz had a good season as a freshman and can score the ball. 6'0″ guard Marko Radovich saw time as a sophomore and should get more of a role as a junior. Ryan Berkowitz did work on the glass last year and his junior year could be a step forward in responsibilities offensively. 5'11" senior Cody Song and 6'2″ senior Talen Zitomer round out a core group of returnees with some experience that could push Cresskill on.
Other Teams To Watch
Weehawken( 13-14; Led by 6'2 guard Keanu Ray Keanu Ray 6'2" | SG Weehawken | 2023 State NJ )
Lodi( 14-12; Led by 6'5″ forward Ermal Kuci Ermal Kuci 6'5" | SF Lodi | 2023 State NJ )
Dwight Englewood( 21-5; A host of young returnees from a good team last year, including Jack Sauma and Nick Balakian)