These past few days there have beens some players that have shown some next level play. Here is a list of a few players that really took that next step.
Tiger is finally starting to get that starter role run and it has been a major game changer for AF this year. In just two games he has shown poise and composure out on the floor and against pressure he is not just sprinting up the floor he is changing pace and using his handle in the open floor to get free. Off the ball when his team is in their motion he is a big time shooter. Not only will he hit those shots he will hit them from deep. His stock i improving and college coaches are noticing. Tiger helped his team go 1-1 against two really good national powers.
Brody and Corner Canyon look good and they were tabbed as the #1 team in 6A for a reason for us. Brody did not have the best shooting night but he hit timely shots and the thing that stands out the most is that his non-scoring attributes are the things that make him that next level prospect that teams outside of Utah are hoping to hone in on because it is an elite skill. Brady racked up 19 boards against some major athletes that have height on him and he does not care. He battles and he goes to work. If he keeps that activity up he will be up there with the best rebounders in the state.
The kid that is the most off the radar that turned a lot of the out of state scouts and evaluators was Brayden Whitehead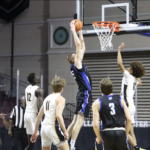 Brayden Whitehead 6'8" | C Bingham | 2023 State UT . This raw 6'10 big man was showing that he can hold his own against other highly touted bigs. In one of his 1st two games h was 8-9 in the field and shot a high percentage at the free-throw-line. What makes college coaches and scouts take a deeper look is that there aren't many bigs out there to just scoop up. If Brayden can maintain this level of play he is going to get some calls because he is a raw player that will continue to improve.
With some high expectations Hunter did his part as he scored 26 points and hit 5 from beyond the arc. Hunter has become a player that is reaching that consistent level of play and although he is a key priority on the opposing defense end he still manages and finds ways to score the ball. Tough first game loss but he will bounce back and he will likely continue that scoring output as well.
Hunter had himself a game and although his team fell to a Region 3 opponent he was able to continue his stat stuffing ways. The Utah State commit scored 24 points in a loss to Riverton who is better than people might think. Hunter scored most of his points inside the three-point line but once he gets that going from the outside, watch out.