We now focus in on the western part of the state to look at the 2A West class. These are some of the schools we think will be important to check out this winter.
Robinson- When you talk about Robinson, you have to talk about 5-star defensive end Daevin Hobbs Daevin Hobbs 6'6" | PF Robinson | 2023 State NC . What he does on the football field is complemented by his basketball ability. His natural athleticism and jumping ability allows him to just bully defenders, but he also has a bit of skill and touch to him as well. If he plays basketball again, he will be a force for them. Jermaine Gray was the MVP of the state championship game last year, and he will return to provide some scoring pop and skill to the backcourt. His IQ as a guard is very underrated and will be expected to play a lead part in what they do this year. Zi'Kei Wheeler will get things done on the interior as a bigger-framed guard; he uses his body very well to attack the paint and finish through defenders. We will see who else emerges for this Bulldogs group, but the three of them are tough, gritty guys that embody the Robinson culture.
Lincoln Charter- Elijah Burnett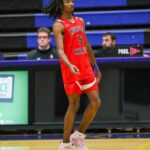 Elijah Burnett 6'1" | PG Lincoln Charter | 2023 State NC will lead this team most nights as an active defender and a lead guard, doing both consistently and with ease. He has a smooth shot Kelon Flowers is looking like a great secondary option if not the lead guard for this team; his ability to attack pressure and score the ball at all three levels is impressive. He should be a top two leading scorer for them this year. Xavier Crawford is another great scorer, he will be counted on to get downhill and finish on the interior this year as a high quality slasher. A name to watch is Joseph Bruce, the undersized sophomore guard that has a deadly three point shot. He may not be a star this year, but he will be counted on for some huge buckets some nights. This team is well-rounded and deep, and last night's performance against Combine Academy shows they can match up with anyone every night. This team is still a top contender in 2A.
R-S Central- The Hilltoppers boast the highest ranked sophomore in the state in Zymicah Wilkins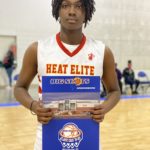 Zymicah Wilkins 6'8" | PF RS-Central | 2025 State NC who is a growing wing/forward that is a serious talent. He is a scorer inside both off the dribble and on the catch in the post, and has gotten even more athletic than previously seen which only is contributing to his rise. He can also rebound the ball super well and will continue to be a developing force. This team graduated a lot of players so we are still unsure who will come out and support Wilkins, but his talent alone will help this team win a lot of games and be contenders in the class.
North Surry- Jahreece Lynch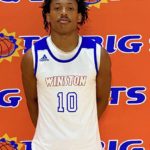 Jahreece Lynch 6'2" | CG North Surry | 2023 State NC will be priority 1A for North Surry this year as someone who has offers to play both football and basketball in college. He is such a well-rounded 2 or 3 that any college coach would like to have on their squad; he can score, make plays, defend, and is a high character guy. He will score, rebound, and provide for everyone else on the team this year. James McCreary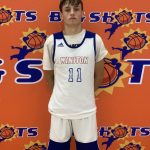 James McCreary 6'1" | SG North Surry | 2023 State NC will be a complementary scorer that probably is option 1B by the end of the season for them. He is a stud shooter and can fill it up in other ways besides that, but his sharpshooting ability will be important. He is also a willing rebounder despite his smaller size, sinking in to grab rebounds whenever he can. Kolby Watson is a baseball guy as well, but he does well on the basketball court as well. He is a gritty guy that plays tough basketball no matter what. This squad will go deep and play hard, and the duo of Lynch and McCreary will be a fun time to watch.
Walkertown- Bryce Baker Bryce Baker 6'2" | CG Walkertown | 2025 State NC is a stud on both the gridiron and the hardwood, and he will be the leader of this Walkertown team. He is a shifty scorer who is quick and agile and will carry the load for this squad on the offensive end. He can shoot it from all three levels of the floor. Jaylen Wilkerson Jaylen Wilkerson 6'0" | CG Walkertown | 2024 State NC is high quality scorer as well, with his feathery touch as well as a marksman's eye from deep. Landon Venable is a bigger framed guy who plays football first, but he provides interior size and strength. He may not be as skilled, but his presence will be welcomed. The Wolfpack will be ones to watch with these two guys at least.