Here is a look at my must see senior point guards who i think will will be stock risers this coming season. I think all are team leaders and will have big seasons this year.
Darrius Vaughn Darrius Vaughn 5'7" | PG Saint Thomas Aquinas | 2023 State LA 5'7″ Saint Thomas Aquanis
Darrius , is a terrific athlete and team leader. He is all district football and basketball player . He had a terrific senior football season at running back .He had 326 yards rushing and 5 touchdowns in a single game. In basketball he is a total team leader and floor general. He leads by example with extreme hard work on both ends of the floor. He is tough to guard offensively with his quickness and finishing ability at the rim in traffic. He loves breaking down defenses with dribble drives and finding open teammates. Defensively, he is one of the best in the state and that was on display in the state semi-finals against highly regarded Newman. He is a must see player for college coaches this coming season.
Jadon Ross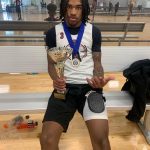 Jadon Ross 6'0" | PG Elton | 2023 State LA 6'0″ Elton
Jadon , is another 2 sport star. He excels in football and basketball.He had a outstanding senior football season and i expect him to do the same in basketball.He is a excellent point guard . He can shoot the 3 point shot and mid-range jumper. He is gives 110 percent all the time and plays phenomenal defense with his quickness .He led his team to the quarterfinals last season and i expect him to do the same this year.
JayVyn Duncan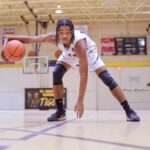 JayVyn Duncan 5'10" | PG St. Martinville | 2023 State LA 5'10" St. Martinville
JayVyn, is another must watch player for college coaches who are looking for under the radar point guards. He is a terrific point guard who can score on pull-ups from mid-range or spot up from behind the 3 point line. He dictates the pace of play from his point guard position and seems to always make the right passes . JayVyn has great quickness and disrupts opposing teams offenses with his constant pressure.
Damien Walters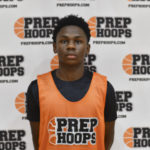 Damien Walters 5'10" | PG Union Parish | 2023 State LA 5'10" Union Parish
If you haven't seen him play then you don't know what your missing. He is a very good point guard who can score the basketball. He shoots the 3 point shot very well . I love his pull-up jumper off the dribble . He plays great defense and does all the little things well like taking charges . Damien is a total team player and always finds open teammates. He run's the fast break very well and puts pressure on defenses with his aggressiveness on offense.
Donte Briggs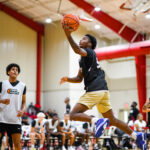 Donte Briggs 6'0" | PG McMain | 2023 State LA 5'11" Mcmain
Donte, is a very smooth point guard who excels on both ends of floor. He can score in multiple ways off dribble or spot up . He can really finish at the rim in traffic. He is a true floor general and the offense flows thru him . he sets the pace, Defensively , he always knows where to be on the floor and rebounds well from his point guard position. He is a must see if you are a college coach looking for a good point guard.