Amid preseason basketball we were able to catch a match-up we hope to see again later in the regular season or playoffs. Miller School of Albemarle hosts Paul VI, the #8 ranked basketball program in the nation via ESPN. These two teams provided an action-packed scrimmage and allowed us to dig up a ton of insight into what we may see from the two programs in the upcoming regular season. When all is said and done and the final whistle is blown, Paul VI put up 87 points to Miller School's 60 points in the scrimmage.
Paul VI is getting things done on both ends
Paul VI did a great job on the defensive end in this match-up, making it difficult for Miller School to get comfortable throughout the scrimmage. The First thing I noticed on the defensive end from Paul VI was how much they were communicating with each other and truly playing defense on a string. This collective defensive performance created a lot of offensive opportunities for Paul VI, allowing them to get out to a big lead early.
Miller School showcased great versatility throughout the offense
Miller School of Albemarle got it done on offense in a variety of ways, using Eli DeLaurier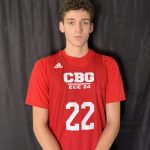 Eli DeLaurier 6'8" | C Miller School | 2024 State #173 Nation VA as a facilitator generated to good possesions. On the defense end, Miller School ran full court press to slow PVI down. They did a great job of excicuting plays throughout the game and playing unselfish on the offensive end.