Get 25% off your subscription by entering Knight25 in the coupon code area. Enjoy!
The 2022-2023 season tipped off for defending 5A champion Memorial on Thursday night as they took the short trip over to Nathan Hale. They got everything they wanted and then some from the Rangers as they were pushed to overtime but would survive with a 68-63 victory over Hale. We've mentioned a few times prior to the season that Nathan Hale needed to be taken seriously as not only a dark horse in Class 5A, but with their performance on opening night, it's hard not to consider them just a straight up contender in the class. Now, we are still a long way away from March, but the Rangers showed that they can play with the best of the best in Class 5A.
The Rangers led basically throughout the game but the Chargers would strike at the end of regulation to send the game into the extra period. Senior guard Seth Pratt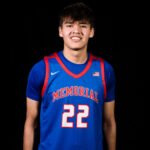 Seth Pratt 6'3" | SG Memorial | 2023 State OK would hit a shot over the out-stretched arms of two Hale defenders as the buzzer sounded and the game was tied at 60. The Chargers would clamp down in the extra period and escape with the five-point victory. Pratt would finish with 11 points, 11 rebounds and 6 assists on the night but it was fellow senior Jarreth Ingram
Jarreth Ingram 6'7" | SF Memorial | 2023 State OK who could not be contained. Ingram would score a game-high 30 points and also grabbed 9 rebounds. Ingram scored from just about anywhere on the floor.
Hale would use a strong run to end the second quarter and begin the third to lead by as many as 11 points in the third period. Hale had a balanced attack on offense with four players finishing in double figures. But the Chargers would chip away and then tied it up at the end of regulation. After talking with Memorial head coach Bobby Allison, it's safe to say that 5A has another contender in the Rangers as it might have been the season opener, but it certainly felt like a game we could see again in the are final. Below, we take a look at some of the top performers from both teams following the overtime classic.
---
TOP PERFORMERS