One of the biggest tournaments in the state took place all over Pasadena school district. Aside of the healthy servings of breakfast, lunch, and dinner; the competition is top notch. Big names playing at each site, but new names rise as well. I talk about some players who caught my eye that can have a impact on their team.
Robert Thomas – 6'7 PF Class of 2023 SA Brennan High School
Mr.Thomas made people put some respect on his name this weekend. Two NASTY drop-step dunks I seen him throw down, and that's just part of his game. He is a paint beast with a motor. Gives second-effort on the boards. Soft touch around the rim especially on his hook shot. He causes problems in the middle of the paint he lets the play develop. Patient when posting up seeing where the double is coming from then making the play himself go dishing it off. Can be a steal for a program.
Gary Brown III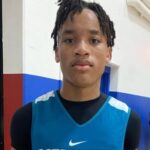 Gary Brown III 5'10" | PG Pasadena Memorial | 2024 TX 5'9 PG Class of 2024 Pasadena Memorial High School
Brown caught fire from the three in a comeback victory against Tomball. Uses hesitation to create space to get his shot off. Have good poise while handling the ball under pressure. Knows how to move and relocate without the ball. Can get plenty of paint touches utilizing his crafty moves.
Arlind Konjuhi 5'10 PG Class of 2024 Cy-Fair High School
Konjuhi plays with high confidence in his game. Good outside shooter off the catch and shoot. Crafty move that gets him good penetration in the paint. A tough finisher for his size. Have a crossover can creates space to get his shot off. If his on-ball defense gets better he can become a solid two-way guard for the next level.
Qasim Boyd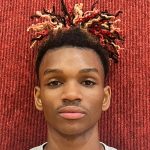 Qasim Boyd 6'0" | PG Dickinson | 2024 State TX 6'0 CG Class of 2024 Dickinson High School
Boyd have to be more of a leader, and he is stepping up to the challenge. Tough guard that pushes up on his man when they have the ball. His signature move is the sidestep to the right and can make the shot fading away. He remains calm no matter the situation.
Ethan Croley 6'9 C Class of 2023 SA Clark High School
The anchor in the paint for Clark. Corey attracts attention with his size just being out there, and know he will have an advantage majority of the time with his size. Soft touch when he using the baby hook shot.
Manuel Ruiz 6'5 G/F Class of 2024 Tomball High School
Manuel can get busy with the ball. Have a nice outside jump-shot off the catch and shoot. Active player that moves without the ball. Not a weak finisher around the rim either . He can combine strength with finesse when attacking the rim.