The MaxHoops College Exposure Event took place this past weekend and prospects from all across the state descended onto the campus of Sherwood High School to compete at a high level. We had the chance to drop by for the beginning and end parts of the showcase and got a good feel for quite a few players that participated. After looking over our own notes and polling some of the coaches that worked the event, here's a look at the top performers.
Cole Holum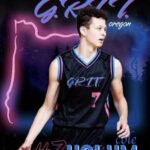 Cole Holum 6'7" | PF Lakeridge | 2024 State OR (2024 Lakeridge)
If we had to pick an MVP, Holum would have been the selection. Yes, the 6-foot-7 junior was the tallest player in attendance but it wasn't his height alone that made him a dominant player. In addition to utilizing his size and length inside, he also stepped out and operated on the perimeter hitting mid-range shots but also how well he looked for others and passed the rock. His height certainly helped out as he was dominant on the boards and on the defensive end as well. Holum was a unanimous choice among all the people we polled for their opinion.
Mykah Mendoza Mykah Mendoza 6'1" | SG Roseburg | 2024 OR (2024 Roseburg)
We were looking forward to seeing Mendoza, who was an all-league selection last year at Roseburg. The 6-foot-1 lanky lefty impressed us with not only his shooting ability from distance but how capable he was of creating off of the bounce and finishing athletically around the rim. There's a bit of a competitive edge you can sense with how Mendoza plays, especially on the offensive side of the ball. Like Holum, he was a unanimous choice for top camp particpants among everyone that we asked.
Gavin Inglish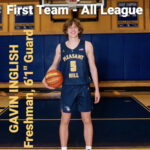 Gavin Inglish 6'2" | SG Pleasant Hill | 2025 State OR (2025 Pleasant Hill)
We were impressed with Inglish when we saw him at the PrepHoops Top 250 Expo and he shined once again at MaxHoops. The 6-foot-2 wing excelled at getting to the hoop and finishing, using his mature body to convert through contact. While his bread and butter was getting to the hoop, he showed off a nice touch on his perimeter shot and did a good job helping out on the boards and defensively. Just a sophomore, he still figures to be one of the top players in 3A this season.
Amogh Dhamdhere Amogh Dhamdhere 5'7" | PG Mountainside | 2024 State OR (2024 Mountainside)
Don't let his smaller size fool you, Dhamdhere can flat out play. The 5-foot-7 junior was getting buckets left and right at the camp, sinking daggers from long range while also using his quick dribble to create and get into the lane for some finishes. His shooting stroke from beyond the arc is pure and he won the three-point shooting contest on Saturday and almost again on Sunday. Mountainside is deep at the guard spot but it will be worth finding minutes for Dhamdhere.
Ben Keown Ben Keown 6'2" | SG Bend | 2023 State OR (2023 Bend)
Keown was one of the most well-known performers at the event, having been a Second Team All-Mountain Valley League honoree last season. The 6-foot-2 guard was one of the top all-around players we saw over the weekend. He scored in a variety of ways at all three levels, using a crafty dribble and footwork to get off his shot over and around defenders. Keown showed good court vision in finding open teammates and was a factor on the boards and defensively.
Isaac Bongen (2027 Robert Gray MS)
Bongen participated recently in the Prime Time Top 40 and held his own – especially for his age – but really shined at MaxHoops as one of the top performers on the weekend. Physically, the eighth grader is already built like a senior and his athleticism already rivals that of anyone in the state – on one play during the championship game on Sunday he broke free on the break and threw down a two-handed thunder dunk. Bongen showed he could hit some outside shots as well and if there's a better current or long-term player in his class in the state right now, we'd like to see it.