The MaxHoops College Exposure Showcase took place this past weekend and prospects from all across the state descended onto the campus of Sherwood High School to compete at a high level. We had the chance to drop by for the beginning and end parts of the event and got a good feel for quite a few players that participated. There were several guys we had never seen or even heard of coming into the weekend and we came away knowing they needed to be added to the rankings of their respective classes. Here is a look at some of them that stood out to us:
Brett Lyons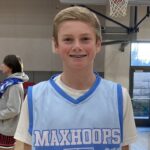 Brett Lyons 5'9" | PG Wilsonville | 2026 OR (2026 Wilsonville)
To be brutally honest, we'd seen Lyons before – he was at open gym at Wilsonville getting buckets. However we didn't know his name – we only knew there was this baby-faced likely freshman with the smoothest jumper unafraid to go up against upperclassmen. Well there's no question after the MaxHoops event we know who Lyons is. All weekend he was nailing jumpers from the perimeter and also confidently using his handle to get open. He further confirmed his touch by winning Sunday's three-point contest. At a program that's as deep as Wilsonville you will likely see him develop by moving up the sub-varsity ranks but there's no question Lyons is a young guard you'll want to watch out for.
Kevin Benson Kevin Benson 6'5" | PF West Linn | 2025 OR (2025 West Linn)
Benson was only at camp on Saturday but he was one of those guys that made an impression the second he stepped into the building. Already standing 6-foot-5 with a solid build that's more than capable of adding more bulk, the sophomore also added skill to his size. He moved extremely well and in addition to utilizing his height inside he was able to step out and operate on the perimeter with a nice-looking shot and solid handles. Benson has tons of upside and is part of a sophomore class at West Linn that is shaping up to be very special.
Brady Muilenburg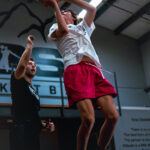 Brady Muilenburg 6'5" | SG Ridgeview | 2025 State OR (2025 Ridgeview)
Muilenburg was another player that intrigued us with his potential. The sophomore is a very long and lanky 6-foot-4 and it seems like there could be some more physical growth in the future for him. He moved around the court very well, had a soft touch on his face-up jumper, and despite his now relative lack of strength, wasn't afraid to battle in the trenches for rebounds or on defense.
Julian Lopez Julian Lopez 5'9" | PG Roseburg | 2024 OR (2024 Roseburg)
Compared to others, Lopez was one of the smaller guys at the event at his listed 5-foot-9 but his motor and toughness more than made up for his lack of size. He relentlessly attacked the basket on the offensive end and was difficult for defenders to contain once he got to the hoop. Defensively he was all over the place creating havoc and going after loose balls. While his preference seemed to be getting to the hoop he had a good enough shot to sink a handful of threes as well.
Sam Armour Sam Armour 6'3" | SF Jesuit | 2024 OR (2024 Jesuit)
Another high-effort, high-intensity player we noticed on the weekend was Armour. The 6-foot-3 junior showed tremendous versatility on the defensive end and showed the ability to guard practically anyone on the court from point guards to bigs. Offensively he was all about making plays and none was bigger than getting out on the break and converting what ended up being the game-winning basket in the championship game on Sunday. Jesuit's varsity is pretty loaded this year but a player like Armour is always handy to have around.
Quentin Neal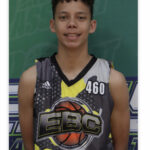 Quentin Neal 6'0" | CG Benson | 2026 OR (2026 Benson)
There were a handful of freshmen at the event and Neal caught our eye. A 6-foot guard, he was long and lanky and often times used that to his advantage, especially on the defensive end of the ball. The lefty had some touch from the outside and wasn't afraid to get into the lane and go up against many of the bigger and older players at the showcase.