The MaxHoops College Exposure Event took place this past weekend and prospects from all across the state descended onto the campus of Sherwood High School to compete at a high level. We had the chance to drop by for the beginning and end parts of the showcase and got a good feel for quite a few players that participated. Here's a look at some more guys that made an impression.
Asher Vredenburg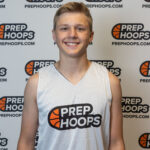 Asher Vredenburg 5'11" | CG Roseburg | 2024 State OR (2024 Roseburg)
Vredenburg did a good job running the point, equally balancing his own offense with that of setting up his teammates. The 5-foot-11 junior was crafty with his handle and was able to finish at the basket over taller players.
Peyton Bruner Peyton Bruner 5'11" | PG Grants Pass | 2025 State OR (2025 Grants Pass)
Bruner has good size and strength for a point guard at 6-foot-2, especially for a sophomore. He was strong off the dribble and hit a variety of shots both in the mid-range and beyond the arc and was good finishing around the hoop with either hand.
Warren Stanton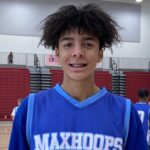 Warren Stanton 6'1" | SG West Linn | 2025 State OR (2025 West Linn)
With his length, athleticism, and motor there's a lot to like with Stanton's upside. At the camp the 6-foot-2 wing didn't force the action, letting things come to him, showed off a nice touch from the perimeter and nimbleness with finishes in the paint.
Peyton Reyes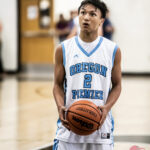 Peyton Reyes 5'9" | PG Mountainside | 2025 State OR (2025 Mountainside)
Reyes didn't play on Sunday due to injury but was impressive on day one. The 5-foot-9 sophomore brought his usual high energy style of play to the court on both ends, but was also able to show off his improved jumper from the perimeter.
Isaac Van Vleet (2023 Open Door Christian)
Van Vleet was one of the better perimeter shooters at MaxHoops. The 6-foot-2 senior spotted up on the wing and routinely knocked down open shots. He wasn't just a standstill shooter either as he made some plays off the bounce and used his length to finish.
Jordan Smisek (2023 Willamette)
Smisek has a solid frame and build and wasn't afraid to use it to bang around on the boards and on the defensive end, playing bigger than his 6-foot height. The lefty fearlessly drove to the hoop but also hit some open jumpers to keep defenses honest on the offensive end.
Mark Anthony Oja (2023 Roseburg)
Oja was very aggressive offensively, contantly on the attack. The 5-foot-9 senior used his quickness and toughness to get into the lane for scores or kicking it out to open teammates. He effused plenty of energy on the defensive end as well.