Region 10 teams can compete with 5A and 6A teams on any given night and they look to continue that trend as they take on teams from all over. it seems like more teams will follow that Dixie model and put it all on the line in the pre-season
Ty Bronson || Cedar City || 2023 ||
Last season most of the year the stats were dominated by seniors and some of the younger players got in here and there. Ty was one of those players that got in and was able to do a little here and there to help his team the best he could. Last season he showed that he is a SF/W that can score and rebound. As one of the players coming back with experience look for him to pick up the scoring and stats overall.
Jordan Eaton Jordan Eaton 6'2" | CG Crimson Cliffs | 2023 State UT || Crimson Cliffs || 2023 ||
Jordan is a tough big guard that is strong and can handle the rock but also bully his way in the post. His shooting has improved over th eyears as he wouls just have his way when he was just a JV player two years ago. Now as he is older and more experienced he will be a key piece in the success of Crimson Cliffs.
Lincoln Holmes Lincoln Holmes 6'0" | PG Desert Hills | 2023 State UT || Desert Hills || 2023 ||
Lincoln is a hidden gem out there in Southern Utah. He has the scoring ability and as a scoring PG he can really score from deep and from all over. If he can get to more three-pointers made this season as he hit 54 last season look for Desert Hills to make some noise and he is going to be a big part of that success.
Kyle Lemke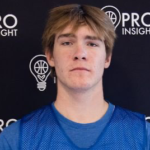 Kyle Lemke 6'9" | C Dixie | 2024 State UT || Dixie || 2024 ||
Kyle is a 6'10 D1 prospect that will play as soon as he hits the floor in college. The question will be if they can keep him home and have him play at Utah Tech or Southern Utah. Kyle is likely the most skilled big in the region. Kyle is that difference maker as a few solid bigs have transferred to new schools and he will be even tougher to stop.
John Southwick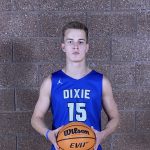 John Southwick 6'3" | CG Dixie | 2025 State UT || Dixie || 2025 ||
John looks great and he is shooting that ball at a high level. He has been looking great as he is healthy and playing an athletic brand of basketball. Seeing him on the floor with three other guard he is sometimes the second biggest player on the floor. He makes the best of his timeo ut on the floor and his versatile game really makes the difference. He has a great motor and he has great stamina. Will be a big time off the ball player at the high school level this season.