On Wednesday Prep Hoops Illinois covered three more games from the Kevin Brown Memorial Tournament of Champions. We saw three games Phillips vs East Peoria, Metamora vs Winter Haven (FL), and the headlining game of week 1 St. Rita vs Joliet West. Check out our thoughts in Kevin Brown TOC: Wednesday Notebook!
Phillips Senior Guards Carry Them to Win
This is the year Phillips has been pointing to and they have a really nice group of senior guards to rely on. It starts with 6'4" Jahiem Savage. Look for him to make a big debut in the next PHI rankings update after a 31 point outing where he scored from all three levels including five triples with his sweet lefty stroke. Also got on the offensive glass for put backs. The best pure athlete of the group was probably Mykel Lindsey who showed it on the defensive end several times with his shot blocking and quickness on the offensive boards for second chances as he had 10 points. Transfer Jelani McGregor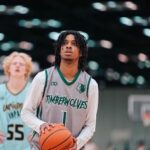 Jelani McGregor 6'3" | PG Wendell Phillips | 2023 IL will return to the PHI rankings mid-season after a year out of state. Slick two guard that has a clean looking shooting stroke and slices through the defense as he went for 15 points. Have to mention Jaqueal Barnes as well as the smaller lead guard is a spark plug for this team that can knock in threes as he notched 13 points in their 81-68 victory over East Peoria.
Cal Poly Commit Starts Off Fast, All Dubois Late
This was our first look at Manual transfer and Cal Poly commit Justin Page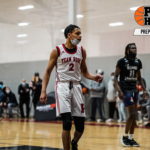 Justin Page 6'3" | SG East Peoria | 2023 State IL since late last high school season. The East Peoria two guard is a fluid perimeter scorer that has a feathery jumper which he had working early scoring 10 of his 12 points in the first half. Very smooth pull up game and flashed some passing. Would have liked to see him be more assertive especially when Phillips was making their run in the second half. Senior 6'3" shooting guard Jack Dubois put himself on our radar with a strong performance netting 19 points. Crafty player that did most of his damage around the hoop where he was efficient converting through and around defenders.
Winter Haven Quartet Shows Out in Win over Metamora
Winter Haven from Florida scored a 72-64 win against Metamora on Wednesday night. They were down heading into the fourth and dominated the final stanza to get the victory. In the first half it was all about Isaac Celiscar. The long and angular 6'6" wing netted the majority of his 19 points in the first half scoring on slices, getting lose in transition, cutting off the ball, and being active on the offensive glass. Legit mid-major prospect. Georgia 2023 commit Dylan James had the dunk of the tournament sealing his man and throwing down a ferocious two handed slam. Long and mobile 6'8" post looks like an SEC big man with his athleticism and mobility on both ends. Like how he high pointed rebounds and when he got touches in the post put them in with ease finishing with 16 points. Florida A&M commit Kjel Parker is a thicker bodied guard that is a bucket getter especially utilizing his jumper all over the floor. Netted 13 points. Can't leave out junior 6'0" guard Jamie Phiillips. The strong bodied shooting guard loved to play bully ball on his way to 14 points.
Metamora Gets Contributions from Guards, Test Will Help in March
Despite the loss there were some positives for Metamora. Drew Tucker really stepped up scoring 16 points in the defeat. He and Tyler Mason (11 points) are crafty scorers that will need to be key players later in the season if they want to reach their goals in March. The senior stars were solid. Early on South Alabama commit Ethan Kizer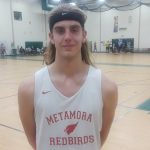 Ethan Kizer 6'6" | SF Metamora | 2023 State IL got off to a hot start just like on Tuesday. Shot it well from deep hitting three triples and had a nice straight line take for an off handed score. Would like to see him be more assertive putting it on the deck. Went for 13 points. Small college gem Tyson Swanson Tyson Swanson 6'2" | SG Metamora | 2023 State IL scored all his points in the lane or on short jumpers. Kid is super productive going for 14 points. The size and athleticism of James and Celiscar they just couldn't handle in this one. Games like this prepared them for the 3A tournament last year. This will do the same.
Joliet West Gets Signature Win in Comeback Victory
There were several instances in the game where things were not going Joliet West's way against St. Rita. Fouls, turnovers, shots not falling. They trailed heading into the fourth quarter by 13. The Tigers came back to win 65-58 with an epic fourth quarter that will go down in Joliet West history. This is what they dreamed about when Jeremy Fears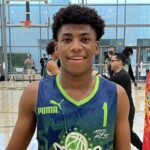 Jeremy Fears 6'1" | PG Joliet West | 2023 State #31 Nation IL transferred back. The Michigan State commit took over when it mattered most at the end of the contest making key defensive plays, getting to the line with his aggressiveness, and sealed it with a lob pass for a dunk at the buzzer. Jeremy went for 17 points in the win. His brother Jeremiah Fears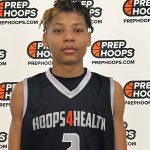 Jeremiah Fears 5'11" | PG Joliet West | 2025 State IL is the top point guard in the 2025 class did the same netting 17 points in the victory. He does it a different way bombing in NBA range threes, but also got to the line for some key free throws and continues to progress as a distributor. The x-factor was 2024 combo guard Justus McNair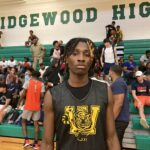 Justus McNair 6'1" | SG Joliet West | 2024 State IL . He doesn't get the hype but he is one heck of a two way prospect with athleticism, playmaking, and shot draining ability as he came up clutch scoring 18 in the win.
St. Rita Big 3 Get On Glass
The top three juniors in the state did their thing. James Brown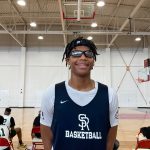 James Brown 6'9" | C St. Rita | 2024 State #21 Nation IL and Morez Johnson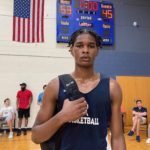 Morez Johnson 6'9" | PF St. Rita | 2024 State #35 Nation IL both had double doubles and Nojus Indrusaitis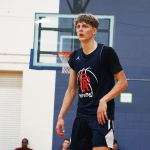 Nojus Indrusaitis 6'4" | SG St. Rita | 2024 State #57 Nation IL was close. Brown is the top prospect in the state regardless of class. Showed why with his skilled moves from the mid-post, getting to the line, and dominating on the glass in a 13 point outing. In front of his future teammates and coaches at Illinois Morez Johnson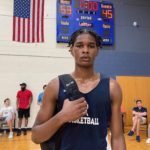 Morez Johnson 6'9" | PF St. Rita | 2024 State #35 Nation IL played with his usual high energy. Was active on the glass on both ends utilizing his quick second jump often going up to get his own miss. The athleticism and power is quite impressive for the #2 junior in Illinois as he had 14 points including the dunk of the tournament. The third ranked junior is transfer Nojus Indrusaitis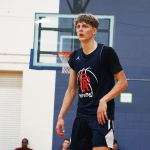 Nojus Indrusaitis 6'4" | SG St. Rita | 2024 State #57 Nation IL . Skilled wing that is trying to find his way with this group after transferring in from Lemont. Knocked in an array of mid-range and baseline pullups while also showing some pop on a couple drives for 14 points. One thing is clear though after this game. If St. Rita is going to win it all they need the depth to show up particularly at the guard spot!