We have almost made it, folks. The Indiana High School Basketball Season is officially just one week away as I write this one Monday, November 14th. Our team here at Prep Hoops Indiana has been getting you ready for the upcoming season for months now. Countless preview articles have highlighted all you need to know around the state while trips to 23 different high school open gyms gave you a more in-depth look at some of the top programs. Now, it is time to start pushing out some preseason all-state selections and Mr. Basketball candidates. This is always a contentious topic, but we do or best to cover our bases from every corner of the state. Our first two nominees were  Logan Imes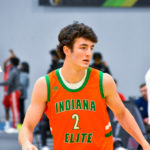 Logan Imes 6'4" | PG Zionsville | 2023 State #202 Nation IN , Myles J. Colvin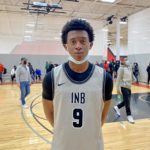 Myles J. Colvin 6'5" | SG Heritage Christian | 2023 State #51 Nation IN , and Markus Burton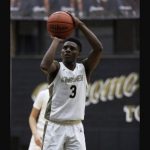 Markus Burton 5'10" | PG Penn | 2023 State #190 Nation IN . You can check out those articles HERE, HERE, and HERE.
Indiana High School Basketball is a hotbed of talent every single season. Our state turns out a ton of college players at every level each and every year. However, it still is very rare to have a guy considered one of the very best prospects in the country. After parlaying a great stretch run of the high school season into a potentially life-changing spring and summer, Xavier Booker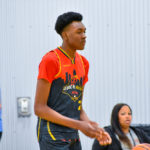 Xavier Booker 6'11" | PF Cathedral | 2023 State #4 Nation IN became a consensus five-star prospect by the national scouting services. The 6'11" forward is the #1 player in the country according to Rivals. Booker has signed to be a part of an excellent recruiting class for the Michigan State Spartans and has palpable NBA Draft buzz surrounding him as well.
When you read that previous paragraph it seems like Booker would be all but a lock to take home the Indiana Mr. Basketball award as a senior. The 6'11" lefty was Cathedral's third leading scorer on last season's state championship team averaging 12.5 points per game. He makes an undeniable two-way impact on the game, but didn't really play his best basketball until late in the season. His dominance in March was a major catalyst for the Irish cutting down the nets at Gainbridge Fieldhouse. While he may well garner the "best player, best team" vote this year, Booker likely won't have the eye-popping statistics that most Mr. Basketball winners feature. He plays with such great players at Cathedral that he doesn't need to come out and score 25 points every night. In fact, it is at least possible that Booker still won't even be his own team's leading scorer. The Irish will also play the toughest schedule of anyone in the state. A lot of how the vote shakes out this year will come down to what individual voters value when casting their ballot.
Path to Winning Mr. Basketball: Being the best player on the best team is usually a pretty good way to wrap up the Indiana Mr. Basketball award. While we know Xavier Booker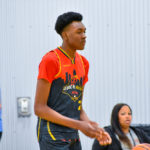 Xavier Booker 6'11" | PF Cathedral | 2023 State #4 Nation IN may not have the raw counting stats of some other candidates, that doesn't mean that he doesn't have the largest impact on the game. At 6'11", Booker changes the game on the defensive end and has offensive skill unlike anyone his size. That is why he is signed to play for Coach Tom Izzo at Michigan State and considered a Top 5 prospect in the country. Capping off his high school career with back-to-back state championships would make it very hard to steer away from him winning voting for Mr. Basketball.