Finally, let's take a look at the third and final batch of athletes who put on a show hooping at the RCS Sports Season Opener..
J'Mar Franklin- St. Thomas (2024)
This was my second or third time getting to watch J'Mar hoop in a high level tournament of this caliber and he never hesitates to put on a show. Franklin is a phenomenal point guard and is a very shifty player who can get to the basket at will past his matchup or pull up for a jumpshot in the defender's face. J'Mar played a critical part in his team's early morning victory against Eisenhower and top prospect Keylon Dorsey, keeping his squad involved and also giving the defense buckets. Franklin will look to make an impact on the Houston hoops scene as one of the top juniors in the city this year.
Justin Begg Justin Begg 5'9" | PG Episcopal School of Houston | 2024 State TX – Episcopal (2024)
Justin was getting buckets on the offensive end all day long for his Episcopal Knights squad in their game on Saturday against a tough, physical Elkins team. Begg was a force driving to the basket and getting his team involved, often making the extra pass needed to score a bucket. Justin was very vocal on the defensive end of the court, always keeping a heads up where the ball was at and notching 5-6 steals in the contest. Justin will play a big role in the offense this year as a junior for this Knights team, who will look to compete in a tough district.
Jaden Williams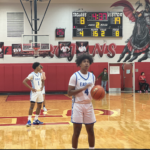 Jaden Williams 6'1" | CG Barbers Hill | 2025 TX – Barbers Hill (2025)
Jaden was part of a big three tandem for his Barber's Hill squad this weekend against Cypress Creek and came away with some clutch buckets down the stretch, coming up just short in a close loss. Jaden is a force on the offensive end, either driving to the basket past his defender or behind the three point line. He was also very active in the post on defense, often playing the help for his big man and stripping the ball loose or getting the block. Jaden has made big strides as a sophomore this season and will only continue to improve as the year goes on!
Jamal Chretien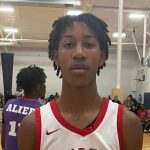 Jamal Chretien 6'4" | SG Mayde Creek | 2025 State TX – Mayde Creek (2025)
Jamal shouldered a majority of the scoring load for his Rams squad team in their tough matchup against Atascocita High. He was efficient in his role running the offense as well as creating space between himself and his matchup to knock down shots, keeping the score close throughout the entire contest. Chretien took on the role of guarding the toughest player on the Atascocita team and was all in his matchups face, never afraid to be the aggressor and talk a little trash to get in their head. Overall, Jamal will look to take over games for Mayde Creek this year as they attempt to keep pace in some high profile matchups.