Class 1A through 5A hit the hardwood heavy this week with a bevy of games throughout the state. During the first week, there were some eye-catching performances by some guards and forwards in north Louisiana. These guards and forwards showed that they can put the ball in the hole or play on both ends at a high level. In this article highlighting the first week of play for the larger schools, we will talk about guards and forwards who impressed in north Louisiana.
Colby O'glee (5'11" | Airline)
O'glee led the Vikings to an opening night victory over West Monroe in double overtime. He had a stellar night from the floor scoring 28 points and also had some key rebounds and assists on the night. O'glee scored 14 of those points in the 4th by being more aggressive going to the rim and of course shooting from behind the arc. O'glee put his stamp on this game as a leader and helped the Vikings get off to a winning start.
Rondae Hill Rondae Hill 5'11" Calvary Baptist Academy | 2024 LA (5'11" | Calvary Baptist)
Hill had a very impressive game in the Cavalier victory over C.E. Byrd Thursday night. Rondae got a chance to display how his game has developed and how he is able to make others around him better. Hill was very good at penetration and finding his big men for dump downs near the rim. He also found his stroke from behind the three point line during the contest. His 27 points and 6 assists night was a combination of his improved shooting and his ability to penetrate. Both things bode well for the Cavs as the season progresses.
Kameron Kennon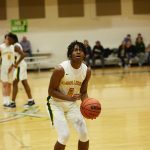 Kameron Kennon 6'3" | SG Calvary Baptist | 2023 State LA (6'3″ | Calvary Baptist)
Kennon showed that he has some variety to his game during the Cavalier win over Byrd. The Cavalier guard was able to drive with either hand to the rim displaying that he does not just lean toward driving to his dominant side. While Byrd did a good job of deterring finishes, his driving caused openings to be created via the pass. Kennon was very good on catch-and-shoot sideline and baseline out of bounds plays. He had three triples of that variety showing that he can be a catch-and-shoot player as well as someone who operates off the dribble.
Ryder Hamilton (6'5″ | West Monroe)
A player who had an impressive game inside and outside was Ryder Hamilton of West Monroe. While the Rebels did not come out with a win, Hamilton displayed that he can spot up and shoot as well as be a force on the offensive and defensive boards. He was very good at catch-and-shoot opportunities from the corners and he crashed the offensive glass to give West Monroe additional chances to score. His game is based on his energy and good shooting. If he continues to do that, he will be a force for West Monroe this season.
Mike Thornton Mike Thornton 5'10" | PG C.E. Byrd | 2023 State LA (5'10" | C.E. Byrd)
Thornton displayed the skill of a senior vet even in the Yellow Jacket loss to Calvary. He was very aggressive in transition pushing the ball up the floor and finding players cutting behind him, running with him, or those spotting up on the wing. Thornton made a couple of bound passes from half court that found teammates near the rim to finish. He was also very good at drawing and kicking to open shooters in the half court. Thornton may be the best point guard in Class 1-5A as far as skill is concerned. His play will definitely help Byrd during the season.
As we move into the weekend, we hope that performances like these continue. Watch for more impressive players as Louisiana moves into its second week of play.