When it comes to teams having success there is always some players that will be labeled as Glue Guys. plyers that keep things together players that often don't score all the points but players that play their role. College coaches love these players and here is a long list of guys that fit the bill.
Makai Peteeson || Pleasant Grove
High energy and motor that could really get things going on both ends.
JR Turley || American Fork
Could provide a little bit of everything, especially shooting.
Taylor Feroah || Corner Canyon
This kid has some size and strength. He shoots the ball well and he defends. He is a player that will continue to stock rise this season.
Ethan Black Ethan Black 6'3" | SF West Jordan | 2024 State UT || West Jordan
Role player that will get more run this year.
Spencer Krainich Spencer Krainich 6'3" | SF Mountain Ridge | 2024 State UT || Mountain Ridge
Mountain Ridge was loaded last year and now a player like Spencer has a shot to showcase his talents.
Isaiah Reiser || Copper Hills
Young freshman that will play a role but has upside like all the Reiser's show they do.
Christian Heninger Christian Heninger 6'10" | C Riverton | 2024 State UT || Riverton
The big fell has a shot to be the biggest glue guy in the state.
Donovan Averitte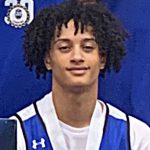 Donovan Averitte 6'4" | CG Bingham | 2025 State UT || Bingham
New team and he could provide some much needed scoring and hustle plays.
Cale Barclay Cale Barclay 6'5" | PF Herriman | 2025 State UT || Herriman
This kid can shoot the ball and the corners are a big spot he can hurt teams when they rotate and help.
Hunter Lopez Hunter Lopez 6'2" | CG Granger | 2023 State UT || Granger
Easton Guevara || Taylorsville
Good size wing that will do a little bit of everything.
Calen Hamblin || Hunter
A few good guards that can shoot by his side can help him get easy looks.
Kapeli Smith Kapeli Smith 6'1" | CG Kearns | 2023 State UT || Kearns
Athletic player that will play with a big motor.
Elijah Soward || Roy
Elite student that should be sought out by D3's.
Arou Ayuen || Cyprus
Game changer role player that plays both ends.
Peyton Cotter || Clearfield
Malachi Spencer Malachi Spencer 6'6" | CG Weber | 2024 State UT || Weber
Good young player with upside that will play a big role on this current team.
Ben Stucki Ben Stucki 6'1" | CG Farmington | 2023 State UT || Farmington
Had an amazing football season and now set to lay it all on the line as a hooper now.
Zach Fisher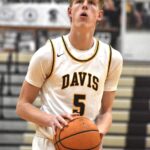 Zach Fisher 6'7" | CG Davis | 2024 State UT || Davis
Has a chance to make an impact once he gets on the floor.
Kane King Kane King 5'8" | PG Syracuse | 2023 State UT || Syracuse
Will be a big part of what Syracuse does distributing the basketball to his guys.
Jaxon Best || Lone Peak
This kid can shoot the ball. He can rattle off 4+ easy. Do not leave him open.
Josh Davis Josh Davis 6'4" | SF Lone Peak | 2023 State UT || Skyridge
Josh is going to have to all he can at both ends to help his team compete.