The Friends School League is primed for an entertaining and competitive 2022-23 season featuring high-level play from nationally ranked stars. By now you are familiar with the Friends League ballers we are talking about. Names like Onyekachi Nzeh Onyekachi Nzeh 6'9" | PF George School | 2023 State PA , Darrien Grady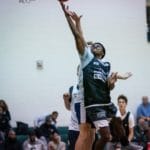 Darrien Grady 5'9" | PG Shipley School | 2023 State PA , Christian Kirkland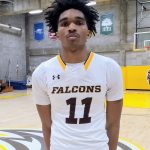 Christian Kirkland 6'7" | SF Friends Select | 2023 State PA , Ife West-Ingram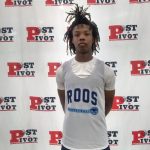 Ife West-Ingram 6'5" | SF Abington Friends School | 2023 State PA and Seyphon Triplett Seyphon Triplett 6'1" | CG Westtown School | 2023 State PA .
Running the court with those No. 1 options will be a group of prospects who are not household names yet, but they will contribute heavily for their varsity teams this winter and potentially play at the next level.
Today we want to highlight seven of these FSL athletes so this season when someone asks you, "What's His Name?" you will know the answer.
Dior Carter Dior Carter 6'3" | SG Academy Of The New Church | 2026 State PA – 6'1" / Freshman / Academy of New Church / Philly Pride National / Combo Guard: Last season at City School (PA) Carter saw significant varsity minutes. So, in addition to his athleticism, dribble drive scoring skills and high IQ, Carter brings experience to the ANC lineup. Carter can distribute via drive and drop off or drive and kick plays. At the other end, he is a plus defender who is willing to guard for 94 feet.
Jarell Keel – 6'3" / Senior / Academy of New Church / 215 Swaghawks / Combo Guard: Keel is a lockdown defender who turns steals into easy buckets (2.8 spg.). On offense, he is a versatile three-level scoring option. With his length and quick second jump, Keel competes on the glass at both ends. Keel's energy and intensity jumps out at you. He projects as the "glue guy" that every college program needs.
Matt Lange Matt Lange 6'1" | PG Shipley School | 2024 State PA – 6'2" / Junior / Shipley / K-Low Elite / Combo Guard: After a solid summer on the grassroots circuit, this playmaker has continued to impress during fall ball events. Lange is a lead guard who gets downhill quickly and plays with pace, so he frequently gets to the rim. Lange has a reputation for Euro-stepping through traffic for lay-ins. His jumper is dependable from the mid-range to the arc. Lange's lateral quickness and instincts make him a menacing on-ball defender.
Carson Mastin – 6'3" / Senior / George School / Team Final Black / Combo Guard: This athletic and long prospect is a creative finisher in transition. If he is left open in the half-court, Mastin will not hesitate to dial up a three. He is effective at scoring off the bounce and can absorb contact at the rim. His surprising hops and instincts make Mastin a solid rebounder. In 2021-22 Mastin averaged 7 ppg. for the Haverford School.
Jahmere Memphis Jahmere Memphis 5'10" | PG Westtown School | 2025 State PA – 6'0" / Sophomore / Westtown School / Elite Six / Point Guard: This multi-skilled 2025 floor general is talented enough that he will see significant minutes this season for a deep 'Town squad. Memphis possesses impressive quickness as well as slick, but never out control handles. Thus, he can get to the rack with ease. His jumper is a reliable weapon as well. What will surprise opponents is his lengthy wingspan.
Isaac Moore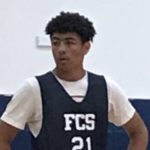 Isaac Moore 6'7" | PF Friends Central | 2024 State PA – 6'6" / Junior / Friends Central / Philly Pride National / Power Forward: Moore (pic above) has developed into one of the most versatile players in the FSL. His imposing size and bag of low post moves, enable Moore to dominate the interior. His 3-point shooting is legit, and his improved handles allow him to attack the rim from either elbow. He also possesses a high basketball IQ and plays with poise.
Angel Otero Angel Otero 5'11" | CG Abington Friends School | 2023 State PA – 5'11" / Senior / Abington Friends / BW Elite / Combo Guard: The AFS roster is loaded with primetime names, but directing the team is Otero, a hard-nosed, crafty combo guard. Otero's primary job is delivering precision dimes to the multiple scoring options on the floor. However, he can knock home threes and get to the cup off the dribble. Otero is a physical guard who can play through contact. Plus, he owns impressive change of pace skills.