The action continued on Friday in the Rumble for Rosecrans Ave. tournament at Sunny Hills High School. Beckman took on the hosts Sunny Hills, Damien squared off with Riverside Poly, and Orange Lutheran tangled with Roosevelt to cap off the evening.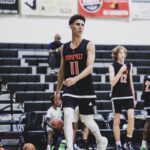 6'0" | CG | 2023
Eastvale Roosevelt | California Select
Nate Simon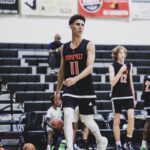 Nate Simon 6'0″ | CG Eastvale Roosevelt | 2023 State CA-S is a confident leader on both ends for his team. Able to get his offense into any set his coach dials up or call his own number, Simon very much appears to be the engine of Roosevelt's offense. Although he may be wiry at best, he fearlessly finds and finishes through contact in the paint. On defense, Simon utilizes his quickness and long arms to disrupt passing lanes, and is a great option for coaches who like to have their guards front the post. Simon's jump shot looks good in terms of its form but in order to succeed at the next level he will likely need to increase the speed of his release. Nate finished with 20 points in a win over Orange Lutheran.
6'1" | CG | 2023
Sunny Hills
Johann Kwon is a composed ball handler and adept at getting to the basket, but the biggest threat he provides for the Lancers is from behind the 3-point line. Kwon runs around screens tirelessly which makes him a tough cover from tip-off and he's wise beyond his years in terms of being able to draw contact on his attempts which helped him take 8 free throws in the 1st quarter alone. Kwon finished with 26 points (3 3's).
5'10" | PG | 2023
Beckman
Miguel Llanes is a strong, quick Point Guard with a particularly strong lower half that allows him to be a plus defender as well as jump forcefully and finish through/over contact. While Miguel can defend both guard positions, I'm not sure his jump shot is quite where you would want it to be to play him at the 2 at the next level. Miguel finished with 14 points.
Shayan Jafari took over for Beckman against Sunny Hills on Friday night dropping 29 points (3 3's) in a hard fought victory. Shayan played very much within the Beckman team concept and was able to take advantage of what the defense was giving him at any level. A particularly effective area of his game tonight was the pick n' pop as his 3-point shooting ability caused defenders to lunge out at him, opening them up to a pump fake and subsequent drive by for Jafari.
6'1" | PG | 2026
Poly (Riverside)
James Croy is a tough ball handler who deals well with pressure especially considering his age — Croy displays good vision, a tenacity for rebounding, and a fearlessness to get into the paint in the face of stiff rim protection. While he doesn't necessarily look for his own shot very often, Croy has nice touch on a floater with either hand.