Feast Week continued on Tuesday at Foothill High School with Peninsula taking on Portola, Mount Carmel making the trip to play Capo Valley, and the hosts Foothill capping off the night against Newport Harbor.
6'5" | SF | 2023
Peninsula | Los Angeles Elite
Brayden Smith Brayden Smith 6'5″ | SF Peninsula | 2023 State CA-S is a a strong, athletic rebounder (specifically a good second jumper). Would like to see him develop better touch around the basket, but he attacks with aggression and it often leads with him being able to draw contact and get to the line. Another bonus for Brayden would be to improve his jump shooting from at least the foul line. Brayden had 18 points and 10 rebounds for Peninsula on Tuesday night.
6'1" | PG | 2023
Peninsula
Ethan Lee is a gritty left-handed point guard who plays with great poise and is able to keep his teams offense on schedule in the face of ball pressure. Lee is strong, able to finish through contact, and is a good rebounder for a guard. Ethan had 13 points for Peninsula on Tuesday night.
Devin Daniel is a confident scorer with a lovely left handed jump shot. A pure scorer who can hurt the defense at every level, Daniel needs to improve his ball handling and focus more on making plays for others to try impact the game more broadly. Daniel poured in 17 points on Tuesday night for Portola.
Colin Huang is the engine and spark plug for his team. He plays great defense individually and as the front man in a full-court press. Huang excels by passing and finishing well with both hands making him a constant threat for defenders no matter where he is on the court. Colin led Portola with 19 points on Tuesday night.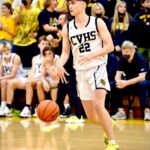 6'4" | SG | 2023
Capistrano Valley | Cali Rebels
Efe Gucoglu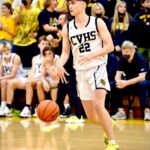 Efe Gucoglu 6'4″ | SG Capistrano Valley | 2023 State CA-S scores and sets up his teammates effortlessly by picking defenses apart in the high pick n' roll. Gucoglu is able to score at every level and with a multitude of footwork as well. On Tuesday night Gucoglu utilized step-backs, a euro-step, and even a step-through in a post situation. Gucoglu shone Tuesday night with 21 points (3 3's) in an easy victory over Mt. Carmel.
6'5" | SF | 2024
Foothill | Cali Rebels
Isaiah Bernard Isaiah Bernard 6'5″ | SF Foothill | 2024 State CA-S is an athletic wing for Foothill who is able to score in a variety of different ways. Bernard posses the size, length, and athleticism to play on the wing at the next level, but is currently developing good rebounding and interior paint skills playing as a big in high school. Bernard is an opportunistic rebounder, but will likely have to rebound in a more technically sound fashion in college as he currently relies on his leaping ability to corral rebounds. Bernard finished with 10 points in a victory Tuesday night.