Feast Week kicked off Monday night at Marina High School as Downey took on Laguna Beach, Fountain Valley faced off against Aliso, and the hosts Marina capped off the night against Lakewood.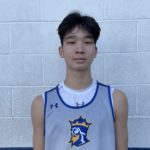 6'1" | PG | 2023
Fountain Valley | Team Why Not OC
JJ Gray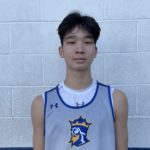 JJ Gray 6'1″ | PG Fountain Valley | 2023 State CA-S is a pure scoring Guard who operates from the mid-range and beyond the 3-point line. Gray isn't necessarily strong enough at the moment to get ahead and stay ahead of every defender he faces, but his handle is good enough to get him to his spot and he is a good enough shooter that getting to his spot is often good enough. JJ had an effortless 21 points (3 3's) tonight in a win over Aliso Niguel.
6'5" | PF | 2024
Aliso Niguel
Garret Trayer is a power forward who stretches the floor for his team on offense by being a threat from the 3-point line, and is a very adept entry passer from the high post and top of the key. Trayer is a fundamentally sound rebounder and has to be because athleticism is not one of his strongest attributes. On defense, Trayer has a solid frame that makes him difficult to move in the post. Trayer had 10 points tonight in a loss to Fountain Valley.
6'5" | PF | 2023
Lakewood
Alex Obi is a wing/forward who has good scoring touch but lacks the dribbling skills necessary to play on the perimeter at the next level currently. He is able to catch and shoot confidently from 3 (particularly the corners) and has good feel in-and-around the basket due to having to play as a big for his high school team. Obi had 25 points Monday night in a win over Marina.
Barak Simon is a lightning quick guard for Marina who always has the defense on its heels thanks not only to his first step but equally because of his ability to decelerate. Simon has excellent court vision, shredding any kind of press the defense threw at him with skip passes, creative long bounce passes, and a couple no-look passes for good measure. Though he is not the tallest, Barak isn't afraid to drive in amongst the trees and is a very creative and skilled finisher. Finally, he can hurt opponents from 3 if they are giving him too much space on the perimeter. Simon had 10 points, 4 assists, and a steal Monday night in a loss to Lakewood.
Bodhi Armstrong is a do-it-all guard who helps your team in every facet of the game. Armstrong rebounds on both ends, defends multiple positions capably, provides strong on the court leadership. He has soft touch inside and displayed that on Monday night with a multitude of layups and turnaround jump shots from 10-12 feet. Bodhi had 16 points in a loss Monday night to Lakewood.