On October 1st, basketball practices opened up all across the state of Oklahoma. We're getting closer and closer to scrimmages starting and games tipping off in November and early December. Over the next several weeks, we'll be taking an in-depth look at the upcoming season with plenty of team previews, players to watch features, scrimmage breakdowns and much more! Keep it locked into Prep Hoops Oklahoma as we'll have new preview content dropping on the site every single day!
Today's feature takes a look at Daniel Webster high school in Tulsa as they join Class 3A.
2021-22 Results
The Warriors were coming off three State Tournament appearances in four years, but only returned one starter. Factor in a new coach, and last year always look set to be a rebuilding year. Webster struggled early as Tray Davis went from a supporting role to a featured role. But as Davis improved as a scorer and leader, the Warriors were able to right the ship in the playoffs and finish a game away from an Area appearance in a competitive Class 4A.
2022-23 OUTLOOK
Webster returns two starters and have a healthy amount of underclassmen that played notable minutes throughout last season's rebuild. Due to the lack of football program, their season starts early. Which possibly given them a chance to gel and get a leg up on other Green Country programs come December. The Green Country this year is top heavy with Class 5A programs Tulsa Memorial, Edison and Nathan Hale. But after that group, the Tulsa public schools based conferences appears to be wide open. Meaning a top half finish for the Warriors is a realistic goal. They balance their Tulsa metro schedule with various tournaments and non conference games against small town teams, which is good prep for the type of opponent they're likely to face come playoff time in Class 3A. Making a run to Area, with a fighting chance for the Class 3A would be a strong sign the west Tulsa program is back on track.
PLAYERS TO WATCH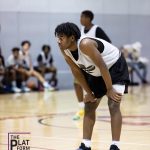 After missing out of a freshman season, Waldon had a baptism by fire as a sophomore. It was a roller coaster of a season for the newcomer. But the flashes were enough evidence that Waldon could be ready to make a junior year leap. He has a herky-jerky driving style, that makes him unpredictable for the opposition. Along with consistency, the next step in his growth will be elevating his teammates as a true lead guard. He has done this at times with great vision and anticipation on passes, it's just now about finding the consistency between being a scoring threat and setting the table for his teammates.
6'1" | CG | 2024
Daniel Webster
The younger brother of recently graduated Tray Davis, Mondre Davis has made strong strides over recent months and after primarily being a bench player last year looks ready to step into a prominent role for the Warriors. A key factor in his growth has been his physical growth, as he's become stronger and now can put his big wingspan to good use. Giving him the opportunity to become an impact player on both ends of the court.
After starting for Webster during Summer League and Team Camp games, the freshman looks ticketed for a strong role this winter.  Avington will hopefully provide floor spacing and help with the aggressive defensive identity of the rising Warriors.
MORE NAMES TO KNOW
Jonthon Corrie, 2024 Guard
Gage Black 2025 Guard
Daniel McCallister 2025 Forward
Tray McClendon 2025 Forward