On October 1st, basketball practices opened up all across the state of Oklahoma. We're getting closer and closer to scrimmages starting and games tipping off in November and early December. Over the next several weeks, we'll be taking an in-depth look at the upcoming season with plenty of team previews, players to watch features, scrimmage breakdowns and much more! Keep it locked into Prep Hoops Oklahoma as we'll have new preview content dropping on the site every single day!
Today's feature takes a look at the defending Class 2A Champions, the Dale Pirates.
2021-22 Results
Following a tough loss in the 2021 Class 2A semifinals, Dale entered last season with a young roster but arguably the best player in Class 2A, then sophomore Dayton Forsythe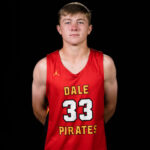 Dayton Forsythe 6'3" | PG Dale | 2024 State #251 Nation OK . Around the talented guard was fellow sophomore in Deken Jones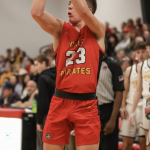 Deken Jones 6'1" | CG Dale | 2024 State OK and then an exciting group of freshmen. An early loss to Class 3A Jones would be one of the few signs of inexperience for the Pirates as they would rack up a 22 regular seasons wins. With their only other defeat coming late season on the road, against fellow top ranked 2A squad, Cashion. Once the playoffs started, no team would play Dale within double digits till the 2A State Championship game against Cashion. It was a rubber match game, with a Gold Ball at stake. And the Pirates would win 65-58.
2022-23 OUTLOOK
In one word? Great. They return all five starters from last year's State Title team and are expected to add an impact freshman to the rotation. Denton Forsythe, the younger brother of Dayton, is that freshman and he's a talented guard that would likely start for many programs in 2A. With no football program at Dale, their season starts early in November, making it a true marathon to make it to the Big House in March. One of their first big tests will be the tournament they host in early December, as it's filled with talented lower classification programs.
The Pirates have an even bigger test to end December with a trip to Tulsa to play in the prestigious Tournament of Champions. In recent years, the gap between small school programs and the large classification programs has widen, with smaller classification programs struggling at the event. That's not the case this year, as any win by the Pirates in Tulsa against a bigger school should not be viewed as an upset. The trip for Tulsa will be a great opportunity for the Pirates to sharpen their swords against top competition. Which they'll need to stay sharp, as for the rest of the regular season and playoffs, they'll have a target on their back.
PLAYERS TO WATCH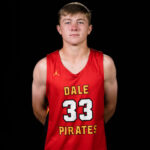 6'3" | PG | 2024
Dale | Team Griffin
After dominating Class 2A as a sophomore, Forsythe took his game to even higher levels with an impressive spring and summer on Nike's EYBL 16U circuit. This has led to the junior to become one of the most highly recruited mid major prospects in the country with an offer list of; Portland, Drexel, Oral Roberts, Sam Houston, Loyola Chicago, Colorado State, Omaha
He's a complete package as a floor general. Befitting the modern game, he's a terror off of ball screen situations with the ability to score or make the right read.  Not only does he serve up easy assists to rolling big men, he can rifle passes cross court to shooters, which takes advantage of collapsing defenses. On drives he plays through contact well, which pairs nicely with his true mid range game.
Right now Forsythe has become a priority for strong low to mid major programs.  Given his competitive nature combined with his control and feel of the game, he has high major ability.  Simply put he does one of the biggest things a point guard should do; he makes his teammates better. The fact that he can score in a variety of ways is the cherry on top of his floor general sundae.
The offer from a Power 5 program might not come specifically from lighting up small town Oklahoma gyms this winter, but quarterbacking Dale to another state championship would be another building block on his resume as a winner.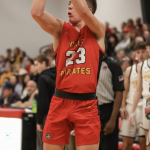 6'1" | CG | 2024
Dale | Oklahoma Runners
Along with Forsythe, Jones is the only returning double digit scorer for Dale. He averaged 11.9 points per game and is a Swiss army of knife for the Pirates.  He has good body control on drives, is a smart cutter and can hit the occasional three. His strong frame allows him to get after it on the defensive end as well.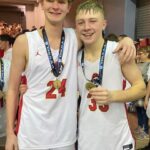 6'6" | PF | 2025
Dale | EYBL Team Griffin
A later addition to the Pirates team last season, he only averaged 3.8 points and 3 rebounds a game. Based on this spring and summer, those numbers should sky rocket. He not only brings his size to the table, Chambers has good mobility for height. As a sophomore, Chambers should mature into a regular double-double threat. To go along with his rebounding and finishing, he has a developing face up game. Which should give him the potential to do damage offensively in a variety of ways.
MORE NAMES TO KNOW
Jett Higdon, 2025 Wing
Levi Kelly Levi Kelly 5'11" | CG Dale | 2025 State OK , 2025 Guard
Easton Edmonson, 2025 Guard
Denton Forsythe, 2026 Guard