The Teams
Akron-Westfield (4-19, 92.0% of scoring returning): The top five scorers return for the Westerners, led by junior guard Laytin Koch (11.5), a three-level scorer and playmaker who also led the team in assists last season. Senior guard Jacob Myers (6.3) is a solid secondary ball-handler while sophomore Tatum Wilken (6.0) and juniors Jackson Marnach (5.6) and Carter Wilken (4.4) gained valuable experience last season. This team improved down the stretch last year, with five losses by single digits in the last few weeks of the year. With the experience they have coming back, they could double their win total this season.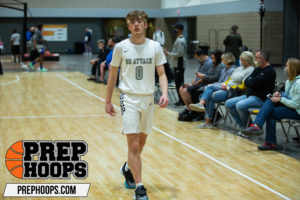 Gehlen Catholic (15-8, 68.9%): The Jays entered last season with high expectations and probably didn't quite live up to what they thought they could be. They'll have a chance to right the ship this season with four of their top five returning, headlined by senior point guard Keaten Bonderson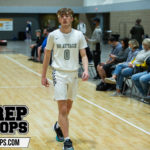 Keaten Bonderson 6'0" | PG Gehlen Catholic | 2023 State IA (18.0). A quick-twitch athlete who can break down a defense and get to the rim seemingly at will, Bonderson didn't shoot it at the level he's accustomed to last season and if he's able to bounce back a bit, he could have a massive senior season as a scorer and playmaker. Keaton Logan (7.5) is a solid secondary ball-handler and rebounder, and Drake DeRocher (6.8) provides some additional perimeter scoring. Ryan Augustine (3.6) and Connor Kraft (2.5) are senior returnees with loads of experience as well. Bonderson is one of the most dynamic players in the conference, and this group should compete for a top 3 finish in the league as well as be a threat come 1A postseason play.
Harris-Lake Park (4-18, 99.8%): The Wolves lost just two total points from last year's team that was probably more competitive than their four wins suggested. Senior guard Tyce Gunderson (10.4) led the team in scoring, assists, and steals, dishing out nearly four assists a game, showing that he can create shots for himself and others. Senior guard Eli Robinson, junior wings Caleb Hemphill (10.2) and Lucas Ahrenstorff (7.5), and sophomore forward Justus Voss (7.5) are the other key returnees for this bunch. They didn't shoot it very well from the arc last season (25.0%), but they took much better care of the ball than most single-digit win teams do. If they're able to become a touch more efficient on the offensive end, they could easily double their win total.
Hartley-Melvin-Sanborn (11-12, 85.1%): The Hawks were playing good basketball down the stretch last season, winning six straight games before their postseason loss to St. Mary's. They bring back the top four scorers from that group and should be improved this season as a result. Seniors Lance Berends Lance Berends 6'4" | PF HMS | 2023 State IA (20.5, 13.3 rebounds) and Kooper Ebel Kooper Ebel 6'2" | SG HMS | 2023 State IA (16.1) give the Hawks one of the best tandems in the conference. Berends is a physical 6-4 forward who absolutely dominates the painted area on both ends of the floor, and he has shown an ability to occasionally step out and stretch the floor. Ebel is an athletic guard who can control the pace, get others involved, get to the rim, and is a fantastic rebounder. Travis Kamradt (5.0) and Keevyn Jacobsma (4.5) are experienced returnees as well. With Berends and Ebel leading the charge, the Hawks should win plenty of games and be in contention for a top 3 finish in the conference this season.
Hinton (16-8, 34.4%): The Blackhawks need to replace big-time scorer Caleb Holmes, who averaged nearly 23 points a game last season. Senior wing Carson Pierce (10.5) is the top returning scorer, and the only among the top five who is back from last year's team. He's at his best when he's playing downhill and getting to the rim. Senior Caden Winters (4.1) isn't much of a scorer, but he pulled down 5.9 rebounds a game, averaged 2.3 assists, and blocked 1.4 shots a night, so he's a uniquely talented player who can impact the game in a major way without scoring at a high clip. They'll need Pierce and Beau DeRocher (4.2) to become bigger scorers this season, and they should be expected to take a step back this year.
MMCRU (7-15, 93.4%): The Royals were young last year, as evidenced by the 93.4% of scoring that is returning. In all, the top six scorers are back, and those six were comprised of three sophomores, two freshmen, and a junior last season, so this is still going to be a pretty young team. There is a ton of upward trajectory within this program. Junior wing Kyler Bork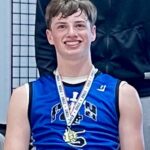 Kyler Bork 6'1" | SG MMCRU | 2024 IA (11.0) led the team in scoring last season, showing that he can score from all three levels. Senior Derek Goth Derek Goth 6'1" | SG MMCRU | 2023 IA (8.4) has a ton of experience, and the combination in the paint of junior Mitchell Schnepf (8.2, 7.3 rebounds) and sophomore Michael Peterson (4.3, 6.3 rebounds) should continue to be strong on the glass. With six players with a lot of experience back, the Royals should be much improved this season.
Remsen, St. Mary's (25-1, 65.6%): The Hawks have dominated this league in recent years, putting together a 142-19 run over the last six seasons with six consecutive state tournament trips. They're always balanced offensively and nasty defensively, and this year will be no exception. Senior wing Jaxon Bunkers Jaxon Bunkers 5'11" | SF St. Mary's, Remsen | 2023 State IA (12.9) is the top returning scorer and leads a group that brings back three starters. Bunkers is the epitome of St. Mary's basketball – a strong, physical wing who can score from all three levels with extreme efficiency (53-48-55 splits), move the ball (3.6 assists), and defend multiple positions. His versatility on both ends of the floor is a perfect embodiment of what the Hawks have been in recent years. Cael Ortmann Cael Ortmann 6'2" | SF St. Mary's, Remsen | 2023 State IA (9.5) led the team in assists last season, and Ryan Willman Ryan Willman 6'5" | PF St. Mary's, Remsen | 2023 State IA (8.5) is a bouncy forward who finishes at a high clip around the rim and rebounds well. Alex Schroeder (7.1) provides some perimeter shooting, knocking down nearly 42% of his 3-point attempts last season, and sophomore Collin Homan (1.8) looks primed to step into a bigger role after a solid freshman season. Look for this group to continue to suffocate teams on the defensive end and use their balanced attack to win a ton of games. They share the ball extremely well and don't care who the leading scorer is on a nightly basis.
South O'Brien (15-9, 68.2%): The Wolverines were dealt a significant blow when leading returnee Jake Wallin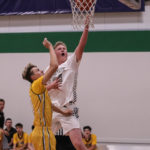 Jake Wallin 6'7" | PF Spirit Lake | 2023 State IA transferred to Spirit Lake, leaving a gaping hole in the middle of their 2-3 zone and in the painted area on offense. Fortunately the next eight scorers from last year's team return, so they have plenty of experienced pieces ready to step into bigger roles. Seniors Hudson Oolman (8.0), Sawyer Honkomp (7.0), Jacob Van Lith (6.1), and Boston Riedemann (4.8) have played a ton of basketball together over the years, developing good chemistry and they will be relied upon as the leaders of this group. Juniors David Bottjen (4.4) and Ben Woodall (4.3) each saw plenty of time last season as well and are ready to step into bigger roles.
Trinity Christian (6-16, 60.8%): Despite bringing back three of their top four scorers and over 60% of their production, the Tigers are bringing back the third least amount of scoring in the league, so it's hard to see them improving much on last year's six wins. Junior Dustin Hoksbergen (13.0) led the team in scoring and rebounding, while seniors Eli Klein (6.1) and Drew Poppema (5.7) are experienced pieces who will contribute on both ends of the floor. This conference is loaded with experienced rosters and it's going to be a grind on a nightly basis for this group.
Unity Christian (14-9, 40.8%): Senior guard Jacob Van Donge Jacob Van Donge 6'1" | PG Unity Christian | 2023 State IA (10.5) is the headliner for the Knights, the lone returnee among three double-figure scorers from last year's team. He led the team in assists and is also a solid defender who can defend either perimeter spot and turn defense into offense. Senior guard Tyce Van Beek (5.6, 47.1 3P%) is a big-time shooter who should see his role increase alongside Van Donge in the backcourt, and junior guard Cole Rens (3.3) and senior Trevor Wieringa (2.2) have some experience. Unity Christian has built a strong program and while they may fall a bit, they aren't going to completely collapse. This program is always going to be pretty strong on the defensive end and that will keep them competitive.
West Sioux (15-8, 80.2%): The Falcons got off to a slow start last season following a deep playoff run in football, going 0-4 to start the year. After making another run to the 1A state championship game, they may get off to another slow start this season, but they'll be really good once they get healthy and rolling. Five of the top six scorers from last year's team return, led by a trio of talented guards – Mason Coppock Mason Coppock 6'0" | SG West Sioux | 2023 State IA (16.7, 5.5 assists), Carter Bultman (11.4), and Booker Walsh (9.6). Coppock, a talented three-level scoring guard, is the best shooter of the trio, while Bultman and Walsh use their athleticism to get to the bucket. Brady Lynott (7.3) provides more perimeter scoring, and sophomore forward Zac Van Meeteren (5.7) is a strong rebounder and interior presence coming off a really good freshman year. This team should put up a ton of points, and if they can lock in on the defensive end they could make some serious postseason noise.
Projected Order of Finish
1. St. Mary's
2. West Sioux
3. Hartley-Melvin-Sanborn
4. Gehlen Catholic
5. South O'Brien
6. MMCRU
7. Unity Christian
8. Hinton
9. Harris-Lake Park
10. Akron-Westfield
11. Trinity Christian
Analysis: St. Mary's has controlled this league over the last six years, and they should be the favorite again. West Sioux will be dangerous with their offensive weapons, and HMS has arguably the best duo in the conference. This is one of the best small-school leagues in the state, and the battle for a top 3 finish in the conference will be a lot of fun to watch unfold. If you're looking for a sleep, check out MMCRU, who brings back a ton and will get their best player back from injury.
Preseason Player of the Year
2023 Jaxon Bunkers Jaxon Bunkers 5'11" | SF St. Mary's, Remsen | 2023 State IA , Remsen, St. Mary's: The perfect example of a St. Mary's player, Bunkers is a versatile weapon on both ends of the floor who can score efficiently, get others involved, rebound, and defend multiple positions. He isn't going to put up the huge stats that some of the other stars in the league (Berends, Bonderson, Coppock, Ebel) will, but he's a winning player on the team that is going to be the best in the conference.
Players to Watch
2023 Jaxon Bunkers Jaxon Bunkers 5'11" | SF St. Mary's, Remsen | 2023 State IA , Remsen, St. Mary's
2023 Cael Ortmann Cael Ortmann 6'2" | SF St. Mary's, Remsen | 2023 State IA , Remsen, St. Mary's
2023 Ryan Willman Ryan Willman 6'5" | PF St. Mary's, Remsen | 2023 State IA , Remsen, St. Mary's
2023 Alex Schroeder, Remsen, St. Mary's
2023 Lance Berends Lance Berends 6'4" | PF HMS | 2023 State IA , Hartley-Melvin-Sanborn
2023 Kooper Ebel Kooper Ebel 6'2" | SG HMS | 2023 State IA , Hartley-Melvin-Sanborn
2023 Keaten Bonderson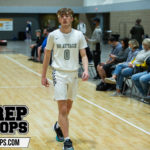 Keaten Bonderson 6'0" | PG Gehlen Catholic | 2023 State IA , Gehlen Catholic
2023 Keaton Logan, Gehlen Catholic
2023 Mason Coppock Mason Coppock 6'0" | SG West Sioux | 2023 State IA , West Sioux
2023 Brady Lynott, West Sioux
2023 Carter Bultman, West Sioux
2023 Booker Walsh, West Sioux
2024 Dustin Hoksbergen, Trinity Christian
2024 Laytin Koch, Akron-Westfield
2023 Jacob Van Donge Jacob Van Donge 6'1" | PG Unity Christian | 2023 State IA , Unity Christian
2024 Kyler Bork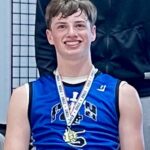 Kyler Bork 6'1" | SG MMCRU | 2024 IA , MMCRU
2023 Derek Goth Derek Goth 6'1" | SG MMCRU | 2023 IA , MMCRU
2024 Mitchell Schnepf, MMCRU
2023 Carson Pierce, Hinton
2023 Tyce Gunderson, Harris-Lake Park
2024 Caleb Hemphill, Harris-Lake Park
2023 Hudson Oolman, South O'Brien