The Teams
Benton (5-17, 68.5% of scoring returning): The Bobcats lost leading scorer Aiden Harris to graduation, but bring back the next four, giving them an experienced group to build around. Senior twins Evan Daugherty (8.8, 43.5 3P%) and Blake Daugherty (8.1, 37.6 3P%) are good perimeter shooters who will be asked to carry the scoring load. Junior Owen Tjelmeland (4.1) led the team in assists, dishing out 3.1 assists a game, and will pair with the Daughertys to give them a strong backcourt. This team is going to be small, but they could be a team that benefits from the implementation of the shot clock, playing a bit faster and trying to use their quickness and shooting to their advantage.
Center Point-Urbana (8-14, 59.4%): Three of the top four scorers return for the Stormin' Pointers, led by senior guard Easton Tupa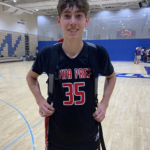 Easton Tupa 6'4" | PG Center Point-Urbana | 2023 State IA (11.0) who should be one of the best players in the division. Tupa is a long, athletic guard who can impact the game on both ends of the floor with his size and talent. Brandon Miller (6.8) and Tucker Clark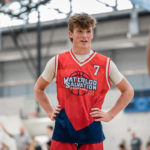 Tucker Clark 6'5" | PF Center Point-Urbana | 2023 State IA (6.5) are both strong on the glass and will provide some physicality and toughness in the paint. The Pointers struggled shooting it last year (28.1 3P%), and that number will need to improve if they want to make a real run for a top 2 finish in the division, but this is always a well-coached, strong defensive team that will compete hard on both ends.
Clear Creek Amana (16-8, 11.7%): Brandon Clubb has built up a pretty strong program in Tiffin, winning 21, 17, and 16 games in the last three years, but the Clippers will struggle to replicate that success this year following the graduations of their top five scorers. Sophomore Brody Clubb Brody Clubb 6'3" | PF Clear Creek Amana | 2025 State IA (4.8), a physical and athletic forward, is the top returnee. He was a solid contributor as a role player as a freshman, controlling the glass and finishing around the rim. Look for fellow 2025 prospects Brock Hilsman (3.0) and Cale Berry (1.7) to play significant roles on this year's team.
South Tama (2-21, 38.5%): Osceola Tyon, who accounted for nearly 50% of the team's scoring last year, graduated, leaving juniors Tommy Tyynismaa (5.5) and Daniel Wiese (5.4) as the top returnees. Tyynismaa, Wiese, and Cade Rosenberger (4.1) are the only players who saw much time last year who return.
Vinton-Shellsburg (3-19, 64.5%): The Vikings won just three games last season but bring back three of their top five scorers from that team, including leading scorer Cameron Dunbar (9.3), a solid shooter. Senior forward Benett Rickels (6.0, 5.3 rebounds) will hold down the paint and play with the ball in his hands quite a bit after leading the team in assists.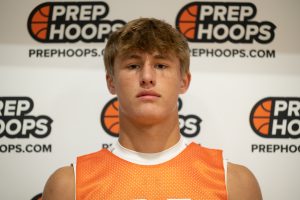 Williamsburg (22-3, 74.8%): The Raiders cruised through conference play last year, going 18-0 against league competition and they bring their top two scorers back from that group, making them a prohibitive favorite to take home another West Division title. In total, six players who averaged at least 4.9 points a game are back so this group will be deep with scoring options. They're led by junior wing Derek Weisskopf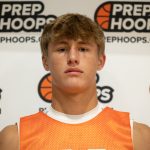 Derek Weisskopf 6'3" | SG Williamsburg | 2024 State IA (15.3), an Iowa football commit who took a major leap last year as a three-level scorer, posting 56-42-73 shooting splits. He's a great athlete who can defend multiple positions, rebound on both ends of the floor, and create shots for himself and others. Senior wing Ethan Harman Ethan Harman 6'6" | SF Williamsburg | 2023 State IA (9.8, 37.3 3P%) provides some more shooting and is a long wing who can get into passing lanes. Senior twins, guard Madox Doehrmann (5.5) and forward Gavin Doehrmann (4.9) provided a major spark off the bench last season. Madox shot 50% from the arc and dished out 2.6 assists a game, while Gavin is a great interior finisher (59.3 FG%). Trey O'Neill (5.9) and Landon Jepson (5.4) also return with experience and provide scoring and defense. They'll move up to 3A for postseason play this year, which certainly hurts their chances at a state title, but this is without a doubt the team to beat in the division.
Projected Order of Finish
1. Williamsburg
2. Center Point-Urbana
3. Clear Creek Amana
4. Benton
5. Vinton-Shellsburg
6. South Tama
Analysis: Williamsburg is an overwhelming favorite in the division after going undefeated in league play last year. CPU and CCA have strong programs that should continue to compete.
Preseason Player of the Year
2024 Derek Weisskopf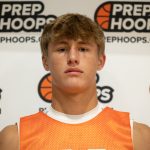 Derek Weisskopf 6'3" | SG Williamsburg | 2024 State IA , Williamsburg: An athletic, physical wing who scores at an efficient clip from all three levels, Weisskopf is the type of player who can also control games even when he isn't scoring with his defensive versatility, rebounding, and playmaking.
Players to Watch
2024 Derek Weisskopf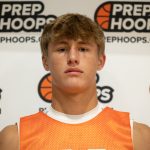 Derek Weisskopf 6'3" | SG Williamsburg | 2024 State IA , Williamsburg
2023 Ethan Harman Ethan Harman 6'6" | SF Williamsburg | 2023 State IA , Williamsburg
2023 Trey O'Neil, Williamsburg
2023 Madox Doehrmann, Williamsburg
2023 Landon Jepson, Williamsburg
2023 Gavin Doehrmann, Williamsburg
2023 Easton Tupa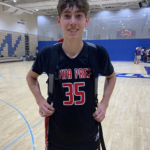 Easton Tupa 6'4" | PG Center Point-Urbana | 2023 State IA , Center Point-Urbana
2023 Brandon Miller, Center Point-Urbana
2023 Tucker Clark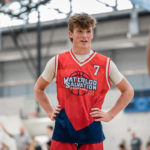 Tucker Clark 6'5" | PF Center Point-Urbana | 2023 State IA , Center Point-Urbana
2023 Evan Daugherty, Benton
2023 Blake Daugherty, Benton
2023 Noah Franck, Benton
2024 Cameron Dunbar, Vinton-Shellsburg
2023 Benett Rickels, Vinton-Shellsburg
2024 Tommy Tyynismaa, South Tama
2024 Daniel Wiese, South Tama
2025 Brody Clubb Brody Clubb 6'3" | PF Clear Creek Amana | 2025 State IA , Clear Creek Amana
2025 Brock Hilsman, Clear Creek Amana