The Teams
Belmond-Klemme (0-22, 99.7% of scoring returning): The Broncos' closest game last season was a 13-point loss to Eagle Grove on December 7. The good news is that they bring back a ton of experience, with just two points total from last year's roster graduated, so they should expect to be a bit more competitive this winter. Junior forward Tyreon Franklin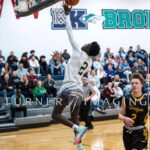 Tyreon Franklin 6'2" | PG Belmond Klemme | 2024 IA (10.1) led the team in scoring and rebounding, while senior guard Brian Duran (5.1) led in assists. They should be the top two options for this group again.
Bishop Garrigan (6-16, 69.1%): Following the loss of Angelo Winkel to graduation heading into last year, we knew the Golden Bears would take a significant step back, and they certainly did, winning just six games. But that doesn't tell the whole story. This team greatly improved from the first half of the year to the second half. In their first 11 games, they went 1-10 with a -13.5 point differential; over the last 11 games, they were 5-6 with a -1.6 differential. They lost leading scorer Jacob Leerar to graduation, but bring back the next five from last year's team, so expect that improvement to carry into this season. Senior forward Drew Fogarty (10.1) is the top returning scorer and rebounder, while Jack Grandgenett (6.5) and Aidan Hovey (5.8) will hold down the backcourt for this group. Sophomore wing Drew Muller (6.1) had a productive freshman season and also returns. This group gained a lot of valuable experience last year, improved down the stretch, and brings a lot back. Look for a significant jump from this team.
Eagle Grove (2-20, 87.2%): The Eagles bring back their top three scorers from last year's team and should be a little more competitive as a result. Junior wing Drake Canavan (12.4) led the team in scoring and rebounding last season and showed the ability to score from all three levels. Senior guard Jordan Morris (9.2) led the team in assists and should have the ball in his hands quite a bit this season, and Jaxon Morris (5.4) was solid as a freshman last year. Five other players who appeared in at least 13 games last year also return.
Forest City (12-11, 32.4%): Last year's 12 wins were the fewest Forest City has had in the QuikStats/Bound era (dating back to 2006-07), and they lost four of the top five scorers from that group. Senior guard Connor Sopko (8.4) is the top returnee, a solid shooter who will have the ball in his hands much more this season. Carson Strukel (3.1) is the top returning rebounder, and Tommy Miller (3.0) is the only other returnee who saw significant playing time last year. Look for sophomore Triston Brandsoy to step into a bigger role after seeing some time off the bench last year. The Indians are always strong defensively, and they will need to lean on their work on that end of the floor if they want to keep winning at the rate they're accustomed to.
Garner-Hayfield-Ventura (18-7, 54.6%): The Cardinals reached the substate finals last year and bring back their best player in senior guard Drew Britson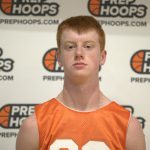 Drew Britson 6'1" | SG Garner Hayfield Ventura | 2023 State IA (16.1), a tough combo guard who does a little bit of everything for this group. Britson is a talented three-level scorer who can break down a defense and create shots for himself or others, and he competes hard on the glass on both ends of the floor. Senior guard Braden Boehnke (7.8) will pair with Britson to give the Cards the best backcourt in the conference, and junior wing Mason Graham (5.8) provides some additional scoring punch. GHV has to replace a lot of rotation pieces from last year's team, but they bring back the best player in the division and a few pieces who complement him well.
Lake Mills (25-2, 30.4%): The Bulldogs are on quite a run over the last three years, amassing a 73-6 record, and despite some significant personnel losses, they'll have a chance to continue that remarkable run. The top two, and four of the top five, scorers graduated, leaving senior wing Denton Kingland Denton Kingland 6'0" | SG Lake Mills | 2023 State IA (10.4) as the top returnee. Kingland, a 41% 3-point shooter, is a solid secondary playmaker who may be asked to step into a primary playmaking role this year, especially early on as new players adjust to major varsity minutes. Eli Menke (4.1, 37.5 3P%) is another really good perimeter shooting threat who moves well without the ball in his hands, and the next Helming brother is on the way in junior Lance Helming (3.7). He's a long, 6-4 combo forward who can defend multiple positions and score inside and out. Sophomore forward Aiden Stensrud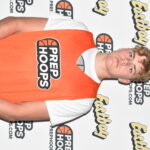 Aiden Stensrud 6'4" | SF Lake Mills | 2025 State IA (3.1) was a solid contributor as a freshman and will step into a bigger role this season. By being so dominant last year, they were able to get some players more minutes which should help ease the transition. This has become a fantastic program that should be in contention for another division title this year.
North Iowa (13-10, 53.8%): The bad news is that the Bison lost their top two scorers from last year's team. The good news is that every other player returns, led by senior guard Noah Hofmann (11.5), who led the team in assists and steals last season and should be one of the best all-around players in the division. Hayden Meinders (6.9) is a dominant rebounder on both ends of the floor, and juniors Jeffery Gerber (5.0) and Brogyn Greensky (4.6) provide some additional experience and scoring. They don't have enough firepower to compete at the top of the division, but they should be a strong middle-of-the-pack team this season.
North Union (8-13, 82.1%): Five of the top six scorers return for the Warriors. led by junior forward Aiden Lofstrom 911.2), who led the team in scoring and rebounding while shooting 61.3% from the floor. That number is every more impressive when you consider the fact that as a team North Union shot just 39.8%, so he was far and away the most efficient and effective offensive player for them last year. Senior Logan Odegaard (8.9) is a solid secondary scorer, and junior point guard Kyan Jones (5.2) dished out a team-high 5.2 assists a game last season. This team should be improved.
West Hancock (11-13, 80.0%): Four of the top five scorers from last year's team return, and in senior forward Rylan Barnes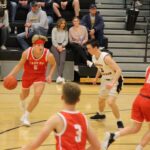 Rylan Barnes 6'3" | SF West Hancock | 2023 State IA (14.5), the Eagles will be led by one of the best players in the division. Barnes led the team in scoring, rebounding, assists, steals, and blocks last season. At 6-3, he's a matchup problem with his ability to get others involved as well as score from anywhere. Junior forward Mitchell Smith (9.0) was dominant on the glass on both ends of the floor and guard Rhett Eisenman (7.6) is back as a reliable ball-handler. The X-factor for this group may be junior guard Evan Hinders (4.7, 47.8 3P%), who was lights out from behind the arc last season. If he's able to get a few more shots per game with his shooting ability, he'll be able to help stretch the floor a bit more to allow Barnes more room to operate. The Eagles should be considered a dark horse to win the division.
Projected Order of Finish
1. Lake Mills
2. Garner-Hayfield-Ventura
3. West Hancock
4. Forest City
5. North Iowa
6. North Union
7. Bishop Garrigan
8. Eagle Grove
9. Belmond-Klemme
Analysis: While GHV returns more than Lake Mills, the Bulldogs have had a stranglehold on this division in recent years and are our pick to continue that dominance. West Hancock should be much improved this season as well.
Preseason Player of the Year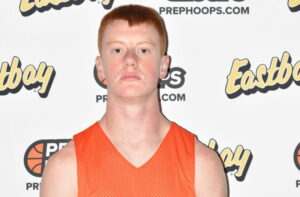 2023 Drew Britson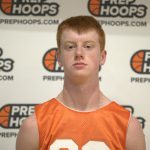 Drew Britson 6'1" | SG Garner Hayfield Ventura | 2023 State IA , Garner-Hayfield-Ventura: Britson is a tough, talented combo guard who can play with or without the ball in his hands. He impacts the game on both ends of the floor and is a skilled three-level scorer and playmaker.
Players to Watch
2023 Drew Britson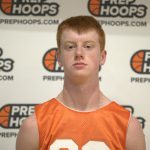 Drew Britson 6'1" | SG Garner Hayfield Ventura | 2023 State IA , Garner-Hayfield-Ventura
2023 Braden Boehnke, Garner-Hayfield-Ventura
2023 Rylan Barnes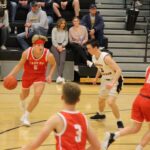 Rylan Barnes 6'3" | SF West Hancock | 2023 State IA , West Hancock
2024 Mitchell Smith, West Hancock
2023 Rhett Eisenman, West Hancock
2023 Denton Kingland Denton Kingland 6'0" | SG Lake Mills | 2023 State IA , Lake Mills
2024 Eli Menke, Lake Mills
2024 Lance Helming, Lake Mills
2025 Aiden Stensrud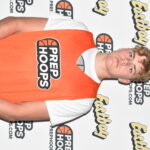 Aiden Stensrud 6'4" | SF Lake Mills | 2025 State IA , Lake Mills
2024 Drake Canavan, Eagle Grove
2023 Jordan Morris, Eagle Grove
2023 Noah Hofmann, North Iowa
2023 Hayden Meinders, North Iowa
2024 Aiden Lofstrom, North Union
2023 Logan Odegaard, North Union
2023 Drew Fogarty, Bishop Garrigan
2023 Jack Grandgenett, Bishop Garrigan
2025 Drew Muller, Bishop Garrigan
2024 Tyreon Franklin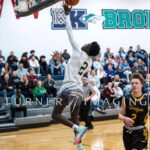 Tyreon Franklin 6'2" | PG Belmond Klemme | 2024 IA , Belmond-Klemme
2023 Connor Sopko, Forest City