The Teams
Durant (6-17, 69.0% of scoring returning): A pair of double-figure scorers return for the Wildcats in seniors Nolan DeLong Nolan DeLong 6'0" | SG Durant | 2023 State IA (15.7) and Garrett Hollenback Garrett Hollenback 6'2" | SF Durant | 2023 State IA (12.7). DeLong is a really good athlete who can get to the rim for finishes, defend multiple positions, and control the glass on both ends of the floor, while Hollenback led the team in assists and is their best shooting threat. Junior Caden Meyer (4.0) is the other key returnee for the 'Cats, giving them another experienced ball-handler. DeLong and Hollenback will be one of the better duos in the division, but they'll need to find some other pieces to step into major roles if they want to improve their win total this year.
Mid-Prairie (24-1, 25.1%): Last season was a special one for the Golden Hawks, as they were the last remaining undefeated team in 2A, their first loss coming at the state tournament. They were a really good defensive team, allowing just 42.7 points a game, using their athleticism and quickness to fly around and create turnovers, contest shots, and allow nothing to come easy. Offensively, they were a balanced team that was able to put a lot of shooting around their star Carter Harmsen. Four of the top five scorers from that team graduated, leaving senior guard Alex Bean Alex Bean 6'1" | PG Mid-Prairie | 2023 State IA (8.0) as the top returnee. Bean was a good role player for this team last year, serving as a secondary ball-handler and good shooter, but he'll be asked to step into a much more significant role this year. Camron Pickard (3.4) and Shawn Dodds (2.3) are the only other returnees who saw significant time last year, so expect to see Mid-Prairie taking a step back this year.
Regina (6-16, 32.4%): The Regals lost leading scorer Coltrae Kerschen to graduation, but bring back three of the next four scorers from last year's team, giving them a solid trio of pieces to build around. Junior wing Nolan Mcdonald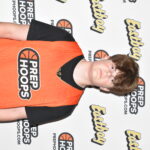 Nolan Mcdonald 6'0" Iowa City | 2024 IA (8.3) was second on the team in scoring last season. He's at his best when he's attacking the rim, but he's a good enough shooter that it needs to be respected. Senior Landis Pietrzak (5.9) and junior Michael Martin (5.2) are the other key returnees. Look for juniors John Devery (3.1) and Eddie Petersen (2.0), and sophomore Connor Nicpon (2.2) to step into bigger roles this season. Regina generally has pretty good athletes and they should continue to be a pretty good defensive team that will compete on the glass on both ends of the floor. If they're able to find a few pieces who can be reliable ball-handlers and help limit the turnovers that they struggled with last year, they could be an improved team.
Tipton (6-16, 50.9%): Leading scorer Bob Ryan graduated, but the next four scorers from last year's team are back, led by senior big man Davis Webb (9.3), who blocked nearly two shots a game last season. He will protect the paint on the defensive end, and is a good enough passer that the offense can funnel through him. Xander Schuett (5.9), Caden Schmidt (5.7), and Ty Nichols (5.7) all gained valuable experience last season and should be ready to step into bigger scoring roles. The Tigers struggled shooting it from deep last season (28.6% as a team), and that will need to improve if they want to make a leap up the division standings.
West Branch (12-10, 56.9%): Junior point guard Holden Arnaman
Holden Arnaman 6'2" | PG West Branch | 2024 State IA (15.7, 5.4 assists) may be the second best player in the division and should emerge as one of the best guards in 2A basketball this year. He's a quick, high IQ guard who can score from all three levels and he's also a really talented passer with great court vision. Senior Andy Henson (6.8) and junior Reese Trepanier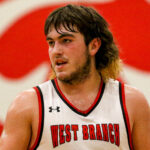 Reese Trepanier 6'0" | SF West Branch | 2024 State IA (7.3) combined to average nearly 13 rebounds a game last season and return to control the paint. Henson blocked two shots a game and is a good interior defender, while Trepanier is a very efficient finisher around the rim. Look for Liberty transfer Jack McCullough to step in and make an impact for the Bears as well. Arnaman is a really talented guard who makes everyone around him better, and the Bears are always strong and physical on the glass. They probably won't push Wilton at the top of the division, but with Arnaman leading the way, they'll be a team that teams don't want to see in February.
West Liberty (3-19, 58.2%): The Comets lost leading scorer Caleb Wulf to graduation but bring back a pair of double-figure scorers in junior forward Jayce McHugh (12.9) and senior guard Ty Jones (10.1), so they have some experience coming back to lead this group. McHugh is also the team's top returning rebounder, pulling down over five boards a game, while Jones led the team in assists last season. There were five freshmen on the varsity roster last season. Only two of them got much time – Caden Laughlin (0.6) appeared in all 22 games, while Seth Axsom (3.8) started 13 games – but the other three should play bigger roles this season (Cael Daufeldt, Cole Daufeldt, and Cameron Iske) as the Comets start to prepare for the future as well.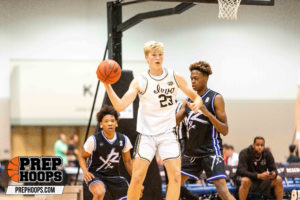 Wilton (17-6, 81.2%): Senior forward Caden Kirkman
Caden Kirkman 6'8" | PF Wilton | 2023 State IA (20.8, 10.8 rebounds) is arguably the most dominant two-way player in 2A basketball. A 6-8 forward with excellent footwork and touch around the rim, he added 3.9 assists, 3.9 blocks, and 1.4 steals a game to that 21-11 he averaged, showing that the offense can flow through him, and the Beavers are able to funnel everything towards him on the defensive end. His ability to contest shots without fouling makes him unique, and his presence in the paint allows the Beavers to play more aggressively on the perimeter defensively. He has committed to play his college ball at Augustana, but will first try to lead Wilton to their first state tournament since 1912. They're able to put a few really good wing scorers on the floor with Kirkman in senior Aidan Walker Aidan Walker 6'3" | SF Wilton | 2023 State IA (11.8) and junior Landyn Putman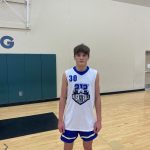 Landyn Putman 6'3" | SG Wilton | 2024 State IA (11.5), so this isn't just Kirkman and a bunch of scrubs. Walker is a good athlete who can get to the bucket routinely, while Putman is an elite shooter who knocked down over 50% of his 3-point attempts last season. Playing alongside Kirkman, he's able to get a ton of open looks and he takes full advantage of them. Senior guard Clayton Guyer (3.3) is a good role player who initiates the offense and protects the ball, while junior Casen Reid (3.1) is another solid shooting threat who knocked down 36% of his attempts last season. The Beavers are the team to beat in the division, and with Kirkman in tow, they could be a really dangerous postseason team.
Projected Order of Finish
1. Wilton
2. West Branch
3. Mid-Prairie
4. Durant
5. Tipton
6. Regina
7. West Liberty
Analysis: Wilton is far-and-away the team to beat in the division this season. Kirkman is one of the most dominant two-way players in the state, and they're able to put a lot of talent alongside him. West Branch will be dangerous, and Mid-Prairie will be competitive despite heavy personnel losses.
Preseason Player of the Year
2023 Caden Kirkman
Caden Kirkman 6'8" | PF Wilton | 2023 State IA , Wilton: Kirkman is one of the most dominant two-way players in the state, regardless of class. A skilled 6-8 big man with a throwback, back-to-the-basket game, he has worked to extend his range, and his ability to protect the paint without fouling is rivaled by few big men in the state. He's primed to have a massive senior year for the Beavers, who are the best team in the division.
Players to Watch
2023 Caden Kirkman
Caden Kirkman 6'8" | PF Wilton | 2023 State IA , Wilton
2023 Aidan Walker Aidan Walker 6'3" | SF Wilton | 2023 State IA , Wilton
2024 Landyn Putman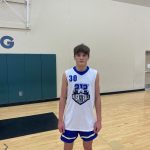 Landyn Putman 6'3" | SG Wilton | 2024 State IA , Wilton
2023 Clayton Guyer, Wilton
2024 Holden Arnaman
Holden Arnaman 6'2" | PG West Branch | 2024 State IA , West Branch
2024 Reece Trepanier, West Branch
2023 Andy Henson, West Branch
2023 Nolan DeLong Nolan DeLong 6'0" | SG Durant | 2023 State IA , Durant
2023 Garrett Hollenback Garrett Hollenback 6'2" | SF Durant | 2023 State IA , Durant
2024 Jayce McHugh, West Liberty
2023 Ty Jones, West Liberty
2023 Alex Bean Alex Bean 6'1" | PG Mid-Prairie | 2023 State IA , Mid-Prairie
2023 Davis Webb, Tipton
2023 Xander Schuett, Tipton
2023 Ty Nichols, Tipton
2023 Caden Schmidt, Tipton
2024 Nolan Mcdonald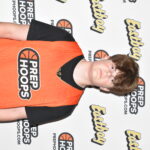 Nolan Mcdonald 6'0" Iowa City | 2024 IA , Regina
2023 Landis Pietrzak, Regina
2024 Michael Martin, Regina