The Class of 2024 in Idaho is top heavy but at the top you have some talented players. Some have been getting recruited by some big time programs and some have already decided to commit. Let's take a look at some of the players we need to be aware of on this list and in this class.
One of the Top guards in the country we need to really watch is the talented Liam Campbell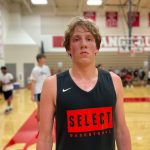 Liam Campbell 6'5" | CG Owyhee | 2024 State #89 Nation ID of Owyhee High School. Liam came over to Idaho with a lot of hype coming from sports powerhouse Mater Dei, CA and he has lived up to it. Not only does he deliver on the floor he gets everyone involved and knows when to take over. Liam has a lot of solid offers including a big time offer from Stanford. The reigning 5A Champion looks to get his team to repeat and they have a solid chance with the skill he brings back to the team. Liam is not only one of the top players in Idaho regardless of class he is a noteworthy prospect across the country as well.
A new kid on the block that you might want to get to know in this class is Russell Gibson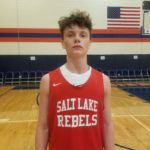 Russell Gibson 6'2" | CG Eagle | 2024 State ID who has made his way back home to Idaho after a few stops in Utah. Russell brings a lot fo experience to an already solid Eagle High School. With great court awareness, ball handling and scoring ability Russell is a next level prospect to really track.
One of the most dominant players in Idaho is Class of 2024 PF Isaac Davis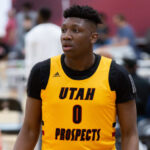 Isaac Davis 6'8" | PF Hillcrest | 2024 State #139 Nation ID out of Hillcrest High School. The defending 4A State Champions have their dominant big back as Isaac not only is a load and a beast down in the paint but he is one of the most sought out forwards in the West. Isaac holds offers from Texas Tech, BYU, Utah State and UNLV. Many schools like the way he projects as a big that sees the floor well and can also stretch the floor and not only dominate in the paint. Isaac is one of the better prospects in his age group around the country.
Idaho's first Class of 2024 commit hails from Pocatello Idaho. Julian Bowie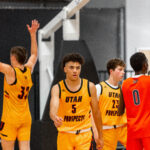 Julian Bowie 6'3" | SG Pocatello | 2024 State #237 Nation ID is one of the top scorers in the state coming back. Julian is a very intriguing prospect as he can score at all three-levels but he can handle the ball as he might make that transition to a more dominant ball handler at Boise State University. Julian in high school really kills it in the post and in mid-post situations. At the club level he is an electric attacker and a sharp shooter from deep with range. Julian is a big time player in the Class of 2024.
These are just a few of the players in the Class of 2024 to expect in the updated rankings that should drop soon.