Dylan Blair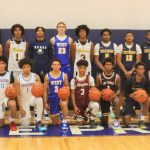 Dylan Blair 5'10" | PG Downingtown West | 2023 State PA – 5'11" / Senior / Downingtown West / East Coast Cyclones / Point Guard: Blair is the heavy favorite to take home POY honors. This electric guard is a 1,000+ point scorer, as well as a two-time 1st Team All Ches-Mont and 1st Team All-Area selection. Last season Blair's well blended scoring / distributing skills, high IQ and relentless motor pushed D-West to the 6A state tourney. His handles and change of pace abilities make Blair a transition phenom. Blair (19 ppg. & 5 apg. in 2021-22), is committed to Army.
KJ Cochran KJ Cochran 6'3" | CG West Chester East | 2025 State PA – 6'3" / Sophomore / West Chester East / K Low Elite / Combo Guard: In 2021-22 Cochran was starter for East's varsity squad as a freshman. He settled into that role quickly, posted a stellar season (18 ppg.; 1st Team All-Ches-Mont) and helped guide East to the CML title. Cochran is a three-level scorer who possesses crafty dribbling skills and a smooth floater game. As a distributor, Cochran excels at drive and kick passing. The upside on this guard prospect is ridiculous. He holds offers from Saint Joe's and Northern Illinois.
Jack Kushner Jack Kushner 6'3" | CG West Chester East | 2023 State PA – 6'2" / Senior / West Chester East / Penn Warriors / Combo Guard: 2022-23 will be this versatile athlete's fourth year in East's starting lineup. During his junior season Kushner averaged 14 pp. along with 8.5 rpg. and was a 1st team All Ches-Mont selection. Kushner has always been able to splash jumpers, but over the last eighteen months the dribble drive moves he has displayed have taken his game to another level. He fearlessly attacks the rim off the bounce, then uses his 36-inch vertical to finish over defenders. Kushner's ability to operate in the low post always surprises opponents.
Chris Kwaidah – 6'1" / Senior / Sun Valley / Philly Pride Delco / Combo Guard: Kwaidah is an elite shooter who drains threes from all over the court. Logo range enables Kwaidah to make shots from deep. While a hasty trigger allows Kwaidah to pop Js in tight spaces. Despite facing "box-n-1" defenses frequently last season, Kwaidah averaged 14 points per game and helped guide Sun Valley to the District 1-5A tournament. In addition to splashing threes, Kwaidah can run as a secondary ball handler. Kwaidah is a 2023 prospect who is just scratching the surface of his potential.
Nyle Ralph-Bayer – 6'3″ / Junior / WC Henderson / East Coast Power-Richards / Combo Guard: Ralph-Bayer assembled a standout sophomore season (13.8 ppg.) that was highlighted by the 30-spot he dropped on Downingtown East. His ability to create space off the dribble for 3PAs is impressive. Ralph-Bayer also can slash to the rim, receive a pass, and then elevate for a flush. A monster July circuit by Ralph-Bayer was capped off with a 29-point performance (7-10 on threes) at the New England Summer Finale. His breakout summer made him one of our stock rising 2024 prospects.
Connor Shanahan Connor Shanahan 5'11" | SG Downingtown East | 2023 State PA – 5'11" / Senior / Downingtown East / Gibbs Elite / Shooting Guard: Thanks to a host of jaw dropping performances on the 2022 grassroots scene, Shanahan's recruiting stock continues to skyrocket. Shanahan (21 ppg. in 2021-22) could always score from the mid-range to the rim by attacking off the bounce. The improved 3-point shooting he displayed starting in June has added another element to his bag. With his more well-rounded game and increased touches, we are expecting a memorable senior year from this creative scorer.