Get 25% off your subscription by entering Knight25 in the coupon code area. Enjoy!
On October 1st, basketball practices opened up all across the state of Oklahoma. Scrimmages opened up and for some of the smaller schools, they've started playing regular season games! We're taking an in-depth look at some of the top teams in the state with our team previews. Keep it locked into Prep Hoops Oklahoma as we'll have new preview content dropping on the site every single day!
In this preview, we take a look at Class 6A contender Bixby.
2021-2022 RESULTS
Bixby doesn't want to look back at last season too much as it was a tough one for the Spartans as they would go 7-16 on the season and lose in the first round of regional play to Broken Arrow. The Spartans closed out the season by losing their final six games and one reason for the struggles last season was the overall strength of their conference. The Frontier Conference might have been the toughest conference in the state last season and these teams beat up on each other throughout the regular season. This year, it doesn't look to be near as deep as we saw last season and that could open the door for the Spartans to become a new contender in Class 6A.
Another big problem the Spartans had last season was their defense. This is a team that averaged nearly 80 points per game but that doesn't mean as much when you're giving up 80 or 90+ points. The Spartans return a good amount of talent from last season and there's no doubt that they'll have one of the top scoring teams again in Class 6A this season. But the biggest question mark coming into the season is whether or not they can slow other teams down. We're not worried at all about the offense, but if they can improve on the defensive end, the Spartans have a strong chance to improve that record dramatically.
2022-2023 OUTLOOK
For us coming into the season, it's all going to come down to the improvement Bixby shows on the defensive side of the floor. With four returning starters and nearly 100 percent of their scoring coming back from last season, there is no doubt that the Spartans are still going to be one of the higher scoring teams in the state. But if their defense matches the offensive output and they start containing teams, this could be a season to remember for the Spartans. Led by national prospect Parker Friedrichsen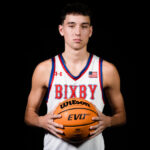 Parker Friedrichsen 6'4" | SG Bixby | 2023 State #165 Nation OK , the Spartans seem ready to take the next step and become a true contender in Class 6A.
And you also have to seriously look at the conference they are in and how much it's changed in just a year. You'll still have teams like Broken Arrow, Booker T Washington and Union that return some strong talent. But other teams like Jenks and Owasso are rebuilding. They're talented, but they're still young and unproven right now. That could certainly open the door for the Spartans to come in and start fast and earn a favorable seed heading into the playoffs. And once they get into a playoff situation, anything can happen.
PLAYERS TO WATCH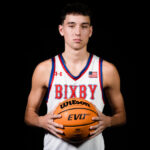 6'4" | SG | 2023
Bixby | KC RUN GMC (UAA)
Bixby senior guard and Notre Dame signee Parker Friedrichsen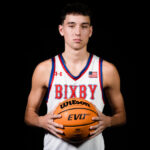 Parker Friedrichsen 6'4″ | SG Bixby | 2023 State #165 Nation OK has been one of the top players in the state for a few years now. He's become one of the top scorers in the state and absolutely lit things up last season, averaging nearly 30 points per game. He wasn't just a scorer. He also averaged nearly 7 rebounds and nearly 5 assists per game as well. When we wrote earlier how we weren't worried about Bixby scoring, Friedrichsen is the reason why. He's one of the best shooters in the state and after watching him for a bit this preseason, it looks like he's continued to expand his range from beyond the arc. That's going to put so much more pressure on a defense trying to slow him down and ultimately that will open things up for others within the Bixby offense.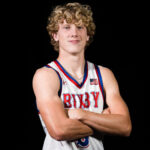 6'4" | SG | 2024
Bixby | Tulsa Hawks 2024
Bixby's top junior player returning is forward Sam McCormick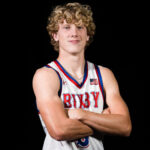 Sam McCormick 6'4″ | SG Bixby | 2024 OK . The Bixby junior is in the middle of football season and pursuing a fourth straight state championship for the football team. But when the season comes to an end, he'll join the Spartans on the court and give them an immediate boost. McCormick averaged nearly 13 points and over 8 rebounds a game last season. He was Bixby's top rebounder and gave them a little more size on a team that just simply didn't have much of that last season. The same can be said about this year. Bixby will look to McCormick to be a physical presence on the floor and he's going to have to fight for space down low and there are some opponents on the schedule this season that have quite a bit of size.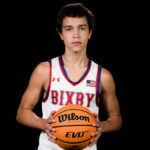 One of the more intriguing prospects to watch this season is Bixby sophomore point guard Triston Driver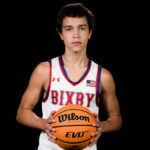 Triston Driver 6'0″ | PG Bixby | 2025 State OK . Last season, as a freshman, Driver enjoyed a breakout season with nearly 14 points per game. He ended up being Bixby's second leading scorer behind Friedrichsen. And we've written quite a bit about Driver over the last nine months from his work playing travel ball. And then a little over a month ago, he came to our Top250 Expo in Edmond and was one of the best players in attendance. He absolutely torched opponents in the final two games of the event. A big theme when we've written about Driver is how he can work off Friedrichsen and vice-versa. The Notre Dame signee is going to get a lot of attention and that's going to open things up for Driver to score and make plays for his teammates.
MORE NAMES TO KNOW
Jonah Surman – 2023 Forward
Luke Friedrichsen – 2024 Guard
Rylan Antle Rylan Antle 6'2" Bixby | 2024 OK – 2024 Forward
Spencer Holley – 2025 Guard