With the early signing period winding down we wanted to give an update on who are the top prospects at each position still on the board in 2023 in Illinois. Here are Best Available: 2023 Illinois Posts!
Chikasi Ofoma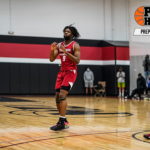 Chikasi Ofoma 6'6" | PF Curie | 2023 State IL (Curie)
Overall Ranking: #41
Ofoma is the top post on the board heading into the season. Physical junk yard dog type post that plays with toughness on the boards getting a lot of his work done on the offensive glass and is a tenacious defender. D2 and JUCOs would be wise to look at him.
Prince Adams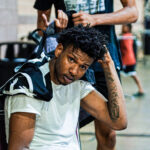 Prince Adams 6'5" | PF Evanston | 2023 State IL (Evanston)
Overall Ranking: #44
Adams has a lot of intriguing physical tools with his build and athleticism. Versatility to play some three and some five in a small ball lineup, but is a traditional four. Has some ball skills along with his ability to rebound.
Donaven Younger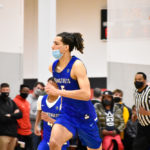 Donaven Younger 6'8" | PF Bolingbrook | 2023 State IL (Bolingbrook)
Overall Ranking: #46
Younger had a lot of hype early in his career, but the production just wasn't there the last few seasons. He made a big jump this summer showing flashes of what he can bring as a rim runner, dive threat, and shot blocker with size along with athleticism.
Zack Hawkinson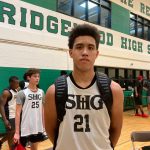 Zack Hawkinson 6'4" | PF Sacred Heart Griffin | 2023 State IL (Sacred Heart Griffin)
Overall Ranking: #47
Hawkinson put his team on his back and carried them across the line to a 3A state title. Strong and undersized post that is so crafty in the paint and has some face up ability as well. Could see a D2 taking him and being very happy with the production they will get.
Mark Nikolich-Wilson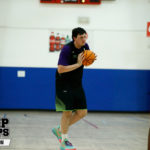 Mark Nikolich-Wilson 6'7" | C Rolling Meadows | 2023 State IL (Rolling Meadows)
Overall Ranking: #49
Baby Krutwig as we labeled him this summer is a point-center with high level passing skills, craftiness around the hoop, and is a quality area rebounder. He is a perfect piece to round out a team at the D2, NAIA, or high D3 level.
Aries Hull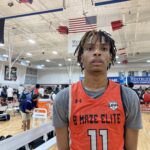 Aries Hull 6'8" | C Bolingbrook | 2023 State IL (Bolingbrook)
Overall Ranking: #50
Hull moved back to Illinois for his senior season at Bolingbrook. Presents excellent length and mobility up front. Rim runner and finisher around the hoop that has bounce and upside. Like what we saw in limited viewings this summer defensively as well.
Tyler Van Gorp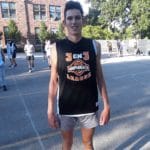 Tyler Van Gorp 6'10" | C New Trier | 2023 State IL (New Trier)
Overall Ranking: #51
TVG is a center that saw limited minutes as a junior, but will have a much larger role this season. At 6'11" this five man can stretch the floor with his shooting and displayed more toughness scoring and rebounding than we had previously seen during July.
Joel Brown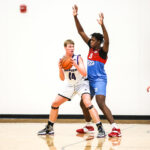 Joel Brown 6'8" | C Marshall | 2023 State IL (Marshall)
Overall Ranking: #52
Brown was a revelation with his play over the summer on the PHC. True five man that anchors down low and scores on the block with both touch and power. Rebounds very well in his area and is a shot blocking presence.
Jeremy Harrington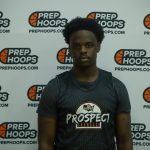 Jeremy Harrington 6'5" | PF Chicago Curie | 2023 State IL (Curie)
Overall Ranking: #54
Harrington might be the leading scorer for Curie when it is all said and done this year. Strong bodied four that can stretch with his shooting and is a tough minded productive post that should be a nice small college big man.
Kevin Anthony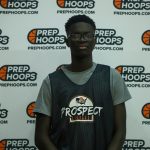 Kevin Anthony 6'9" | C Von Steuben | 2023 State IL (Von Steuben)
Overall Ranking: #56
A lot of upside with Anthony. Love the size and length here along with his athleticism. Big time shot blocker that offensively for most of his career was pure finisher, but has added some skill over the last year.