Can someone threaten Miege's stranglehold on the 4A state title? A look at who returns might provide some answers.
Here are last year's 4A tournament teams who return significant pieces for another run:
Miege
Miege dominated the last year's field with some brilliant seniors. But that doesn't mean the cupboard is bare. The Stags gave four juniors significant playing time.
They will be tough in the front court again, thanks to the presence of Aiden Wing Aiden Wing 6'4" | SF Bishop Miege | 2023 State KS (pictured) and Daegan Jensen Daegan Jensen 6'1" | SG Bishop Miege | 2023 State KS . The two combined for about 22 points and 9 rebounds per game. They are both long, athletic and versatile forwards.
The guard position will need to develop as seniors Mac Armstrong and Isaiah Coppage were strictly backups a year ago. The wildcard is a non-returner – Patrick Mccallop Jr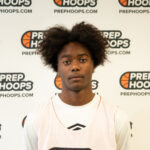 Patrick Mccallop Jr 5'10" Bishop Miege | 2023 KS who sat out last season with an injury. He tore up the track in spring and has had a fine football season. A fully healthy McCallop gives the Stags a fast and creative point guard.
McPherson
McPherson will miss Seth Madron, but boy must the Bullpups feel good about what comes back. They finished third at state relying on a bunch of sophomores.
The Bullpups return a nice big man in senior Mason Miller. And are they ever guard-rich. They can run out some combination of juniors Cory Muehler Cory Muehler 5'11" | CG McPherson | 2024 State KS , Owen Pyle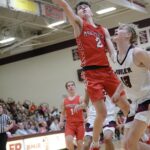 Owen Pyle 6'2" | CG McPherson | 2024 KS , Kreighton Kanitz and Kyden Thompson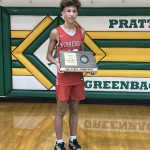 Kyden Thompson 6'0" | SG McPherson | 2024 State KS for a mix-and-match guard rotation. They are all athletic, creative and smart with the ball. Senior Dawson Feil was also in the mix at guard last year.
Hayden
Hayden shocked last year by reaching state at 9-13, then by upsetting Eudora in the first round. The question remains whether big man Joe Otting Joe Otting 6'3" | C Hayden | 2023 State KS will be balling at Hayden or jump starting his career with Notre Dame football. If Otting is back, Hayden should be a formidable 4A unit.
Whether Otting is back or not, the Wildcats will have track star Jake Mueller Jake Mueller 6'0" | SG Hayden | 2023 State KS to build around at guard. A few other returners got significant playing time last year, including Daxton Ham, Dominic Ridley and Dylan Foster.
Abilene
The Cowboys graduated a big-timer in Kaleb Becker. But a lot of returners gained good experience on the 16-7 run to state. They have some size in juniors Thomas McClendon and Kyson Becker and senior Cameron Vinduska. McClendon is a big-bodied post how can run and provide power in the paint.
At guard, the Cowboys will look for seniors Grant Waite and Thomas Cottone to grow in their roles. Look for juniors Brax Fisher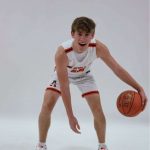 Brax Fisher 6'1" | PG Abilene | 2024 State KS and Keaton Hargrave to become leaders this season. Fisher is a versatile guard who may play the point or off guard for the Cowboys. He's an energy-bringer who can handle and facilitate or hunt shots and hit from deep and midrange.