Looking at the state tournament returners from each class, 3A is a different case.
First, one of the most loaded teams in terms of returners won't be in 3A this year. Hugoton is pushed up to 4A.
Second, several 3A state teams return one big-time player, but not a lot of depth. You could make an all-star team starting with Galena's Tyler Little Tyler Little 6'5" | PF Galena | 2023 State KS , TMP's Dylan Werth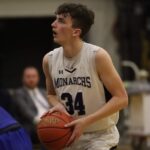 Dylan Werth 6'7" | PF TMP | 2023 State KS and Hesston's Jake Proctor Jake Proctor 6'3" | CG Hesston | 2023 State KS . But their teams don't return a lot from their state rosters of year ago.
We're looking at the most deep TEAMS from last year's tournament. Here are last year's 3A tournament teams who return significant pieces:
Southeast of Saline
The Trojans did not list a single senior on their state tournament roster last March. The wound up in third place at the tourney, losing to Royal Valley in the semis, then whipping TMP in the consolation round. The Trojans were impressively balanced last year.
The headliners are Eli Sawyers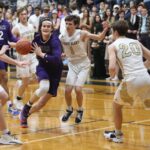 Eli Sawyers 6'7" | SF Southeast Of Saline | 2023 State KS and Nakari Morrical-Palmer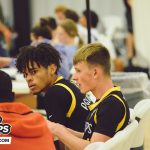 Nakari Morrical-Palmer 6'3" | CG Southeast Of Saline | 2023 State KS (pictured). But beyond the big two, there is a lot of talent, depth and experience. Luke Gebhardt, Drake Augustine are the top returners at the guard spot. There are several more who will be ready to play at the guard spot, and Brenton Heller provides some size inside.
Osage City
Unlike Southeast of Saline, Osage City graduated five seniors from last year's squad. But the Indians return two huge pieces from the team that went 20-4. Landon Boss Landon Boss 6'1" | SF Osage City | 2023 State KS was one of the leading scorers in the state with 24 points per game. He's a powerful multi-sport star who can play inside and out and make plays. He averaged 4 assists per game as well.
Kaden Kirkpatrick is a 6-foot-3 big man who, like Boss, gets it done in multiple sports. He made a nice showing in the state loss to Southeast of Saline with 14 points and 8 boards.
Hugoton
Here's the oddball on this list. Hugoton bumped up a class for the current school year. They may have enough talent to be a player on the 4A level. There's no question, if they were still in 3A, they would be one of the favorites.
Like Southeast of Saline, Hugoton returns nearly all its production from a year ago. They also return a "big two" in Carson Bennett Carson Bennett 6'2" | SF Hugoton | 2023 State KS and Ryle Riddlesperger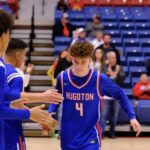 Ryle Riddlesperger 6'2" | PG Hugoton | 2023 State KS . But they return a bunch of depth too. Key contributors who are now juniors include Isaac Martin (7 points, 4 rebounds a year ago), Desean Lewis (5 points, 2 assists), Emmett Gaskill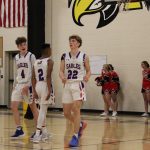 Emmett Gaskill 6'3" | SG Hugoton | 2024 State KS (4 points, 4 rebounds) and Griffin Heger (4 points).
We'll see how that group makes the jump to 4A. Should be interesting.