The state tournament next March seems a long ways away. But as we tip off the 2022-2023 season, one way to know who will reach the big dance is to see who returns from last year's tournament.
There is no team from last year's 2A field that brings back a ton of returning production. But there are certainly a few who bring back significant pieces.
Here are last year's 2A tournament teams who return significant pieces:
Hillsboro
The two-time defending champs lost so much. But they bring back their leader, Brekyn Ratzlaff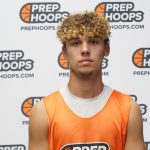 Brekyn Ratzlaff 6'0" | PG Hillsboro | 2023 State KS . He can play like a traditional point man, but he has shown the ability to create his own shot and rack up a lot of points too. He may have to carry more of a scoring load as a senior.
Fellow senior Tyson Plenert is a multi-sport athlete who was good for 4 points and 2 rebounds as the Trojans' top reserve.
Lyndon
The Tigers return three starters, including a big talent in senior wing Jackson Biggs Jackson Biggs 6'5" | SF Lyndon | 2023 State KS (pictured). The 6-foot-5 Biggs is a long, angular athlete who can play in the paint, but really excels shooting from the perimeter and making plays in transition. He will take on the go-to role as a senior. Ryan Bones and Evan Feuerborn are small guards who have played a lot of varsity basketball.
A player to watch is Kaedin Massey, a 6-foot-8 center who didn't play a lot a year ago, but certainly has the length to be an impact player.
Wichita Independent
One of the tournament's early outs returns the most players. Four starters are back for the Panthers, led by 2A honorable mention recipients Joseph Recalde-Phillips and Christian Dean. Recalde Philips averaged 15 points per game as a junior. Also back are Conor Harris and Javon Beadles, who also averaged in double figures as a junior. The Panthers also return three players who stand 6-foot-3 or better.
Valley Falls
The Dragons were an almost entirely senior team last year. But two key players return. Dylan Cervantez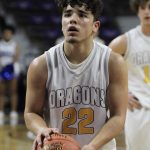 Dylan Cervantez 5'10" | CG Valley Falls | 2023 State KS is a powerful guard who competes in the lane. He notched 32 points in the three-game tournament. Zac Evans Zac Evans 6'0" | CG Valley Falls | 2024 State KS lit up Pittsburg Colgan for 28 points and finished with 59 over the three games. Cervantez and Evans each averaged about 13.5 points and 6.5 rebounds during the season, and each earned 2A all-state honorable mention.