One last classification to study. Without question, one team stands above the others in terms of what it returns. Greeley County brings back the best player in the classification, plus most of the talent that led to a title a year ago.
But that doesn't mean there aren't a few other teams that bring back a lot. Here are last year's 1A Div. II tournament teams who return significant pieces:
Greeley County
Begin with Jaxson Brandl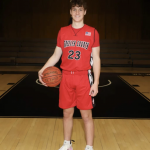 Jaxson Brandl 6'2" | CG Greeley County | 2023 State KS , one of the best players in the small school classifications. He was a machine at the state tourney with an impressive 76 points in three games. But he didn't do it alone, and a lot of the team is back.
Fellow senior Titus Sherer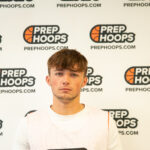 Titus Sherer 5'6" | PG Greeley County | 2023 KS (pictured) is a tenacious, disruptive guard who handles the ball and leads with experience. Lincoln Shafer Lincoln Shafer 5'10" | CG Greeley County | 2025 State KS is a lights-out shooter who is developing into a well-rounded varsity player as a sophomore. He notched 32 points in the tournament, including the big shot to win the final. Only two seniors departed from the champions.
Bucklin
The Red Aces graduated some studs who won't be easily replaced. But they return some really nice pieces, plus some who could develop a lot given a greater opportunity.
Jaron Lindsay is a nice piece to build around. The 6-foot-5 post produced 10 points and 7 rebounds as a junior and will be the focal point. Andrew Bowman contributed 10 points, 5 boards and 2 assists as a sophomore and stands to see his role grow.
Garin Stimpert is a 6-foot-2 forward who can shoot it from deep. He produced 3 points and 3 rebounds as a junior and will have a much bigger opportunity as a senior. And keep an eye on Kolson Cook, a guy who stepped in as a 5-foot-11 freshman and made a big contribution. He brought 5 points and 3 rebounds.
Caldwell
The Bluejays return essentially everyone from their 16-7 season. Their small roster included four players over 6-foot who will return.
Senior guard Teagan Thompson led the team a year ago with 12 points per game. Jackson Risley was productive as well, and he was big with 18 points in the first-round loss to Bucklin. Football star Keiondre Smith is an athlete who can do it all for his team.
Central Plains
The Oilers literally return everyone. There were no seniors on their team a year ago. They took their lumps, but got on a roll in the playoffs and won their way into the state tournament with a 4-18 mark. While the season wasn't an easy one, it gave a ton of experience to the returners.
Peyton Ryan Peyton Ryan 5'9" | CG Central Plains | 2024 State KS was the leader of the Oilers as a sophomore, scoring 20 points per game and contributing rebounds, distribution and defense, too. Evan Stratmann added 7 points and 3 rebounds as a junior. The team relied upon sophomore Hunter Klima and a few freshmen who will be back as well.