On Monday, the Heritage High School Huskies took on the Broughton Capitals. Here is a recap of some players that caught me while watching the game.
HERITAGE HIGH SCHOOL – 32
Heritage came into the game with a record of 0 -1, losing to Southeast Raleigh in their first game of the season. Players that caught my eye on Monday:
Levi Beckwith | 6-5 | C | 2025
I came away from this game very impressed with this young man. He has good size and length. He is a good shooter with range to the 3-point line. He plays hard on defense, moves his feet well, and uses his length to block shots and rebound. He has good touch around the rim and can finish through contact.
Nick Gilmore | 6-3 | SF/ PF | 2023
Nick displayed good length and athleticism. He worked hard defensively and came away with a couple of block shots and rebounds in traffic.
Jon Mwanda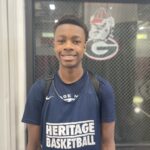 Jon Mwanda 6'1" | PG Heritage | 2025 State NC | 6-1 | CG | 2024
Mwanda displayed solid handles and he used those handles to get into the paint. He displays good finishing ability and showed the ability to touch the paint and draw fouls.
Cameron Jones | 6-2 | CG |2026
While this young man did not play a ton of minutes, I came away impressed with his energy and how hard he was willing to play defensively.
Broughton High School – 56
Broughton came into the matchup with Heritage with a 1-0 record, defeating Corinth Holders High School in their previous game. Players that caught my eye:
Manning Lasso | 6-4 | SF/ PF | 2023
Lasso seemed to be all over the place for Broughton. He was active defensively and used his hands to create steals and ignite fast breaks. He finished the ball well around the basket. He had good post footwork and score quite a few bucks from post-ups.
James Parrish | 6-3 | SG/PG | 2023
I have written about Mr. Parrish before and as I mentioned previously, he displayed his sweet shooting stroke knocking down some 3's. He also showed that he is more than a shooter and has the ability to create off the bounce.
Chauncey Sumpter | 6-3 | SF | 2024
Sumpter plays with a high motor and creates steals and deflections with his activity. He displayed solid mechanics on his jumper by knocking down a 3-point shot on the night. He also showed good touch around the rim.
Hayes Carlin | 5-11 | G | 2023
Ran lanes well in transition which led to a couple of easy transition lay-ups. He was active defensively.