As the season starts this week with the Thanksgiving holiday tournaments, I want to give my conference breakout player of the year predictions for 4-6A. Either a player who is just coming into his own, getting more playing time, just moved into town or has been hampered by injuries.
Here are my breakout player of the year candidates for 5A:
Keyan Murphy Keyan Murphy 6'5" | SF Centennial | 2024 AZ Centennial
One of the breakout favorites is a player I have barely ever seen play. He did not get much run last year but watching him play in the summer and fall, he is one of their best players. He has great size and skill. He has long arms to play on defense and a little wiggle to create his own offense. His ball rotation on his perimeter shooting is next level.
Awan Kueth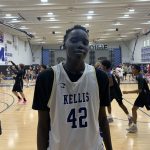 Awan Kueth 6'8" | C Kellis | 2023 State AZ Kellis
A legit sized post player has great length and moves well to alter or block many shots per game. He won't be that offensive weapon for the Cougars but his presence alone will help them on both ends of the court. He will score on put backs and dunks.
Jordan Irving Jordan Irving 6'5" | PF Higley | 2023 State AZ Higley
Irving has been steadily improving each year. He has decent size, plus length and quick twitch athleticism. He will rebound, rim run on the break and block shots. He will score on put backs and hook shots. His stock is up.
Matthew Green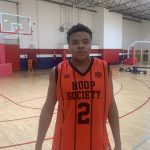 Matthew Green 6'4" | PF Chaparral | 2024 State AZ Chaparral (Pictured)
An undersized power forward is strong, tough and skilled. He has great length and sticky hands he uses to catch tough passes and will score with his back to the basket and score over bigger post players.
JJ Salkowski JJ Salkowski 6'0" | SG Catalina Foothills | 2023 State AZ Catalina Foothills
A strong framed scoring guard is a two-way player who can shoot it from the three point line. He plays physical defense on the ball and will rebound at a good rate for a guard. He can get to the basket with a decent handle.
Justin Garcia Justin Garcia 5'11" | CG Campo Verde | 2023 State AZ Campo Verde
A scoring combo guard is a legit sniper. He has one of the quicker releases in state and has a pure stroke from beyond the three point line. He makes smart reads and compliments PG Kai perfectly.
Mitchell Perkins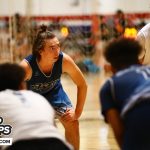 Mitchell Perkins 6'3" | PF Notre Dame Prep | 2024 State AZ NDP
A Fountain Hills transfer will help the Saints immediately. He brings a lot of energy to both sides of the court. He crashes the glass and although he may be a tad undersized, he uses his long arms and motor to clean the glass.
Braden Totman Braden Totman 6'7" | PF Horizon | 2023 State AZ Horizon
A taller face-up four-man can shoot it but is starting to work inside. He is finding a nice balance from inside and out, as he is filling in to take more contact. His post footwork is improving and he is rebounding better in and out of his area.
Taimari Jones Taimari Jones 6'4" | PF McClintock | 2024 State AZ McClintock
With many scoring guards on the team, they need a glue guy to do the dirty work. Insert Jones. He has a big time motor and grabs rebounds in bunches on sheer effort. He uses his length, athleticism and quickness to corral the board. He can also run the court and score on put backs.