Wednesday afternoon PHI checked out a fun matchup with up and coming squads West Aurora and Fenwick. It was a pretty close game throughout with West Aurora holding the lead for most of it winning 62-57. Here are our 5 Takeaways: West Aurora vs Fenwick!
Savage Stars in Lights Out Performance, Smith and Brooks Key Contributors
It was all about CJ Savage CJ Savage 5'10" | PG East Aurora | 2024 IL in this one as he notched 23 points including 15 in the first half when West Aurora couldn't get anything to go other than him. The smaller 2024 lead guard made an array of threes, pull ups, and had some acrobatic finishes at the rim for and-1s. Another junior that played a huge role in the win was Jordan Brooks
Jordan Brooks 6'2" | SG West Aurora | 2024 IL as the Oswego transfer brough defense, toughness, and shot making in a 12 point performance. Flashes were definitely shown out of top 10 sophomore Terrence Smith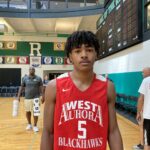 Terrence Smith 6'4" | SF West Aurora | 2025 State IL . The bouncy small forward has a ton of upside. His athleticism off the bounce and in transition led him to 8 points including a huge alley-oop jam.
Pickett Foul Trouble
West Aurora's star Josh Pickett
Josh Pickett 6'5" | SG West Aurora | 2024 State #228 Nation IL was in foul trouble all game long. He couldn't shake it as he picked up two early setting the rest of the half and then had four before you knew it. The top 10 junior combo guard had his moments when on the floor including a corner three where he was fouled. Went for 8 points in very very limited minutes.
Damion Porter Asserts Himself
Liked what we saw from Fenwick 2025 wing Damion Porter. Strong bodied wing seemed lighter on his feet and was aggressive while still being efficient. The top 20 sophomore lived up to that with his performance taking it right at the West Aurora defense for tough scores in the paint, had several steals, and most impressive was the confidence he shot it with from beyond the arc in a 17 point outing.
Fenwick's Size
The overall size that Fenwick has is impressive. Small forward Darshan Thomas emerged this fall and had a nice outing. The 2024 small forward can really handle it taking the ball off the defensive glass and pushing. Quickness around the hoop and has a good overall feel for the game offensively while impacting defensively with his instincts. Expect a big debut from him in our mid-season rankings update. Went for 12 points. JT Pettigrew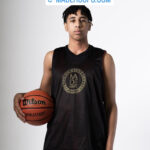 JT Pettigrew 6'5" | PF Fenwick | 2025 State IL is a sophomore who has legit size, rebounds very well in his area, and gets to the foul line quite a bit as he had 11 points. Zion Young is another prospect up front to watch as the big bodied 6'6" five man had a nice pick/pop 3 along with rebounding well early in the game.
Bright Future for Both Programs
Almost every contributing player on the floor in this game was either a sophomore or junior. These two programs have a nice window to rack up some wins the next 2-3 years!