PHI took in a pair of games on opening night at the Tip Off Classic from Shepard. In the first game the host school battled 2A power Perspectives while in the second contest Marist matched up against Andrew. Here are our 5 Takeaways: D218 Tip Off Classic!
Perspectives Looks Like 2A Title Contender Without Several Key Transfers
It took them a few minutes to get into the flow of game action again but then the route was on for Perspectives as they won 78-29 over host Shepard in the opener. Early on it was KJ Cobb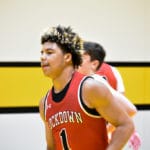 KJ Cobb 6'0" | SG Perspectives | 2023 State IL who had it working. Powerful 6'1" shooting guard played well off his defense getting things going the other way for transition points, long outlets, and finished well through contact at the rim. Crisp pull up game netting 15 points. Midwest JUCOs will be all over him! Then it was his little brothers turn as 2024 point guard Gianni Cobb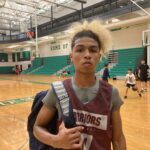 Gianni Cobb 5'11" | PG Perspectives | 2024 State IL showed why we consider him a legit D1 point guard. Missed some bunnies early, but then broke out in the second half with his speed getting to the rim over and over for scoop shots and slick drives. Also bombed in some threes. Active hands on the defensive end. Finished with 23 points. Tim Handy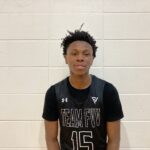 Tim Handy 6'3" | SG Perspectives | 2024 State IL is another 2024 to track on this team. Rangy small forward is solid defender and slasher loving to play above the rim in the open court. He had 8 points. Late in the game Isaiah Coleman checked in as the 6'6" freshman has some buzz. Wasn't afraid out there and hit a baseline jumper for his only points in the fourth quarter.
We also noticed that three of their transfers did not play. Catholic League Player of the Year Jakeem Cole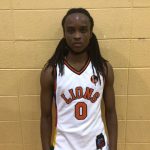 Jakeem Cole 6'0" | PG Rich Township | 2023 State IL who was at Leo sat out as did the uber bouncy Jarrod Gee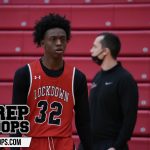 Jarrod Gee 6'5" | SF Perspectives | 2023 State IL . When they are cleared these two will make this team even better. Kenric Mosby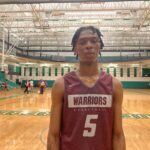 Kenric Mosby 6'7" | C Perspectives | 2024 State IL was not there, but as we learned from our friend Aaron Britton who was at Collins tonight he is now at Longwood.
New Name Seniors Emerge in Opener
What a performance by Perspectives 6'5" combo forward JK Woods on Monday. Super bouncy 2023 prospect that swatted shots, threw down an array of nasty dunks, and was so quick to the glass on both ends netting 18 points and 12 boards. He defended well laterally too and even hit a three. For Shepard senior Payton Crims was their top player. The 6'2" Crims is a smooth two guard who displayed some creation off the bounce and a clean looking shooting stroke in a 14 point outing.
Vaval's Stock Soaring in 2025
Marist combo guard Keshaun Vaval Keshaun Vaval 6'0" Marist | 2025 IL had an excellent outing in his debut for Marist in their 51-40 win. The sophomore was electric in the first half scoring 15 of his game high 23 points. Creative ball handler that won off the dribble converting an array of acrobatic layups and and-1s at a high clip. Also shot it well from deep knocking in a pair from distance and made sound decisions as a distributor including several slip and dump off passes inside. Currently checks in at #16 in 2025, but could make a move up the board if he keeps playing like this.
Marist Freshman Duo's Debut
This was our first look in a real high school game at Marist's talented freshman class. Their big man Stephen Brown is a bouncy 6'7" four man that has long arms and impacts the game on both ends. Defensively he used his length to swat shots and alter others. Offensively he had a breakaway dunk, put back on the offensive glass, and a sweet euro step on his way to 9 points. Dropped a few passes and had a couple turnovers, but no denying he is one of the most intriguing 2026s in the state. Can't forget about 6'0" point guard Adoni Vassilakis. Scrappy guard was making plays with his tenacity, creative passing, and float game as he notched 4 points.
Andrew Star Has Off Night, Sophomore Steps Up
Class of 2023 combo forward Austin Kulig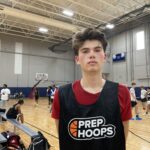 Austin Kulig 6'8" | SF Andrew | 2023 State IL had a great summer and an even better fall. Plus positional size, athleticism, and shot making. It just wasn't his night on Monday as we only had him for four points in the loss. The potential D2 prospect will definitely bounce back! The bright spot for Andrew was the play of their sophomore point guard Athan Berchos. At 5'10" the floor general is a crafty playmaker that is a capable shooter from distance and made several scoop shots.